Living with Fibromyalgia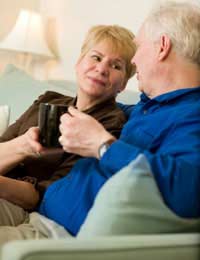 It is not just the sufferer who has to live with Fibromyalgia; it is also the sufferer's family and friends. Many individuals find it difficult to comprehend how someone who has been previously fit and healthy can suddenly be fatigued and unable to participate in activities that they once took great pleasure from. It is unfortunately one of the downsides to the condition.
Understanding Fibromyalgia
One of the most important aspects to consider when discussing Fibromyalgia is the fact that it is not visible as such to those around the sufferer. There may be signs such as the fact they have difficulty walking, standing up or sitting down but for the most part the symptoms of Fibromyalgia are not visible to the naked eye. The same can be said for Chronic Fatigue Syndrome (CFS) otherwise known as M.E (Myalgic Encephalomyelitis).
Where a person who might have an illness such as cancer may exhibit visual indicators those suffering from Fibromyalgia or Chronic Fatigue Syndrome (CFS) may not – the only visible signs may be eczema or rashes but these are not often considered to be anything more than minor skin conditions.
For those who do not suffer from either of these conditions it is important to consider the speed at which they can take hold of the sufferer. Sufferers may experience what are known as 'flare ups' which are bouts of the condition which come on without warning and disappear with the same lack of warning. This is one of the factors that non-sufferers find difficult to cope with.
Living with a Fibromyalgia Sufferer
Anyone who has experience of Fibromyalgia will tell you that the condition has several stages – just like Chronic Fatigue Syndrome (CFS). It may be mild, moderate, severe or chronic and those suffering from the most chronic condition can experience difficulty with normal everyday tasks that most of us take for granted.
Another aspect of the condition is short-term memory impairment and this can manifest itself whilst the sufferer is speaking; many Fibromyalgia sufferers forget what they are saying whilst they are saying it; this comes across as long pauses in the conversation which to those unfamiliar to the individual's condition can be strange and disconcerting.
Fibromyalgia sufferers may also appear to be tired all the time; this is also something non-sufferers find hard to comprehend especially if the sufferer has had a full night's sleep. Some sufferers experience such chronic fatigue that they appear to be falling asleep while they are speaking which non-sufferers find hard to cope with.
Coping with Fibromyalgia as a Non-Sufferer
Many may ask what is there to cope with; the answer to this is quite a lot. It can be hard for a non-sufferer to understand and relate to how a sufferer of the condition feels especially if they can see no physical signs of the condition other than perhaps tiredness.
It is important that those people who live with or spend a great deal of time with a sufferer understand the limitations the condition brings with it and also understand how their reactions can cause stress and anxiety to a sufferer.
With this in mind if you live with a Fibromyalgia sufferer you may find visiting the doctor with them to be a help in coming to terms with the condition and also perhaps visiting a support group with them; support groups also offer help and advice for non-sufferers living with those individuals suffering from the condition.
You might also like...