Coping With Major Celebrations
By: Suzanne Elvidge BSc (hons), MSc - Updated: 23 Oct 2012
|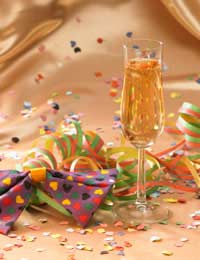 One of the major symptoms of fibromyalgia syndrome is the tiredness, and this can make major celebrations, such as Christmas, birthdays and weddings difficult, especially if you are acting as the host. Even if you are just a guest, coping with major celebrations can be hard – here are a few hints and tips on how to cope, and hopefully how to enjoy things.
Take it Slowly
Plan any major celebrations as far as possible in advance, and do a little of the preparation each day or each week, whether it's planning the whole thing as the host, or just sorting out what to wear and how to get there as a guest. Don't take on too much – rather than accepting invitations to all the Christmas parties, pick the one or two that you will enjoy the most, and send notes and cards explaining the situation to the others. Don't feel guilty – just enjoy the ones you do attend. Get as much rest as possible beforehand, so that you are not starting the celebration already tired.
Food and Major Celebrations
Most major celebrations involve food, and this can be hard work for a host with fibromyalgia syndrome. While the best food often is prepared from scratch, for people with fibromyalgia syndrome, the stress of cooking an entire day's worth of food for a large group of people may be too stressful and tiring. There are a number of ways round this, though.
Keep it simple – keep the food and decorations simple and classy – people are there for the fun and the company, not five-star gourmet perfection.
Buy pre-prepared food – many supermarkets have excellent ranges of high quality pre-prepared fresh or frozen food, as well as snacks, crackers, biscuits and cakes, which can be bought in advance and then just set up on the day – even if they need cooking this will generally just be a few minutes in the oven. Shopping online and then getting it delivered to home (or wherever the celebration is) takes away the additional stress of trudging around a supermarket and carrying things home.
Make food beforehand and freeze it – prepare food gradually over the weeks or even months before the celebration. This means that things can be prepared from fresh ingredients and also helps spread the cost.
Make it a bring-and-share meal – get everyone to bring their favourite food along (perhaps split groups of people into starters, main courses and desserts). This means that everyone can be involved, and they may even take their washing up home as well!
Get help – pull in friends or family to help out. This can be made to be part of the fun, with music and an extra chance to chat.
Use disposable plates, cutlery, cups and glasses – these look much better than they used to. While it may seem wasteful, it will save time and avoid washing up just when tiredness is really kicking in, and biodegradable options are available too, so can just go straight onto the compost heap afterwards without having to go into landfill.
Having a Drink
Some people with fibromyalgia syndrome find that alcohol makes their symptoms worse (see 'Alcohol with Fibromyalgia Syndrome'). Having a drink and something to eat beforehand, alternating alcohol and soft drinks, and drinking plenty of water before going to bed can help.
Make a Point of Enjoying it
This is your day as well as everyone else's' – make sure that you enjoy it!
You might also like...
I enjoy receiving your newsletters as they are so informative and so knowledgable as to the symtoms of Fibromyalgia, I dont like the idea that others are suffering, but at the same time i can feel better in knowing that i am not alone with this condition. Unfortunately for me i have been diagnosed with other conditions, My I.B.S is quite bad, with added complication of being diagnosed with collegenous colitis, the meds have also helped to cause me to suffer with duodenitis, also i have a hernia in my oesophogus. As if all that was not enough my spine is in a mess with oesteo-arthritis. My Consultant told me that unfortunately one auto immune desease usually end up with other diseases going hand in hand with each other. this is hard to know and hard to deal with, as fast as i have started to try and deal with one condition additional health problems have been then added to my list. I feel like a walking bathroom cabinet with all the medicationi'm on. anyway thanks for beingthere for the support and information you always give
katz
- 27-Sep-11 @ 8:50 AM
I enjoy receiving your newsletters as they are so informative and so knowledgable as to the symtoms of Fibromyalgia, I dont like the idea that others are suffering, but at the same time i can feel better in knowing that i am not alone with this condition. Unfortunately for me i have been diagnosed with other conditions, My I.B.S is quite bad, with added complication of being diagnosed with collegenous colitis, the meds have also helped to cause me to suffer with duodenitis, also i have a hernia in my oesophogus. As if all that was not enough my spine is in a mess with oesteo-arthritis. My Consultant told me that unfortunately one auto immune desease usually end up with other diseases going hand in hand with each other. this is hard to know and hard to deal with, as fast as i have started to try and deal with one condition additional health problems have been then added to my list. I feel like a walking bathroom cabinet with all the medicationi'm on. anyway thanks for beingthere for the support and information you always give
katz
- 27-Sep-11 @ 12:08 AM