Diagnosing Fibromyalgia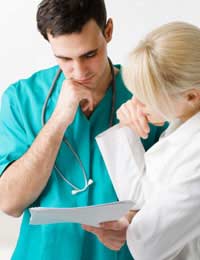 If you think that you may be suffering from Fibromyalgia or M.E (Myalgic Encephalomyelitis) then the first thing you should do is consult your doctor regarding your suspicions.
Obviously he or she will want to run their own tests and conduct their own examinations to determine the cause of your problem and in doing so they will have to eliminate other medical conditions before settling upon Fibromyalgia or M.E (Myalgic Encephalomyelitis) as a diagnosis.
Diagnosing Fibromyalgia
It is fair to say – and most doctors and patients alike can bear this out – that diagnosing Fibromyalgia is not an easy thing to do. One of the most irritating factors about Fibromyalgia – especially from a doctor's point of view – is the fact that it can have a multitude of symptoms, all of which can be attributed to a variety of other conditions.
In order to diagnose Fibromyalgia accurately your doctor must examination and treat your for a period of at least three months for the same symptoms. This perhaps sounds a little excessive especially if you are suffering from a series of chronic pains but given the nature of the condition and the fact it has so many other overlapping conditions, your doctor needs to see that there is a systemic problem inherent rather than a symptomatic one that will disappear in time.
Your doctor must also be able to note that at least eleven out of a possible eighteen so-called trigger points around the body are active during this time of chronic pain. These trigger points are normally tested by depressing a finger on the area of pain and waiting to see how long the skin retains this depression.
What Tests Can Be Carried Out?
There are no real tests that prove beyond any doubt the presence of Fibromyalgia in an individual. If your doctor orders a round of blood, urine and other related tests then these are for the purposes of eliminating other possible illnesses before looking at Fibromyalgia as a viable option.
As we have mentioned already a doctor will look for sensitive trigger points around the individual's body and he or she may decide that if these points are sensitive to the slightest touch that Fibromyalgia may be the correct diagnosis to make.
Medicating Fibromyalgia
Your doctor will tell you from the offset – if he or she has diagnosed Fibromyalgia – that any medications prescribed are not to treat the Fibromyalgia but are to treat any or all of the overlapping conditions it may cause. These conditions include Irritable Bowel Syndrome (IBS), headaches, nausea, muscle and joint pain and Insomnia.
He or she may prescribe short courses of anti-depressants or sleeping pills; some of which double up on what they treat. Some anti-depressants and sleeping pills are used for their primary purposes i.e.: helping with depression and loss of sleep but can also be used as a means to relax muscles.
I've Been Diagnosed with Fibromyalgia, What Next?
There are self-help groups that you can find on the Internet or alternatively your doctor may be able to provide you with a list of support groups he or she is aware of. The most important factor after you have received your diagnosis is how you are going to deal with the condition.
If you are not a chronic sufferer then you will have bouts of pain and discomfort known as 'flare ups' but these will pass; however if you are a chronic sufferer then you will find that you are in pain for a considerable part of the day.
If this is the case then you should try and schedule some rest time during the course of your day. Likewise if you are stressed because of the nature of your job or home life then you should consider ways in which you can relieve stress as stress and anxiety are common triggers for bouts of Fibromyalgia.
Again your doctor will be able to advise on the best ways in which to do this.
You might also like...