Adjusting to Life with Fibromyalgia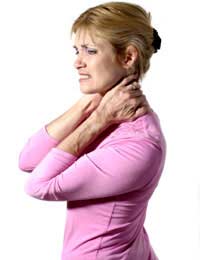 Those of us who have been diagnosed with Fibromyalgia will know how difficult it is adjusting to life with a condition that can flare up at any time without warning and simply fade away again without any indication.
it is however difficult for non-sufferers of the condition to understand how such an ailment can be there one minute and gone the next.
Changing Your Lifestyle
There are many Fibromyalgia sufferers who have had to make drastic changes to their lifestyle in order that they can cope with a condition that gives no warning when it strikes and gives less warning when it fades again.
Some sufferers have mild flare-ups which can last a matter of hours or even days whilst the more severe instances of Fibromyalgia can be chronic and can last the sufferer's lifetime. Such chronic instances of the disorder bring with it overlapping conditions such as Irritable Bowel Syndrome (IBS) or bouts of anxiety which can manifest themselves as anxiety attacks.
Lifestyle changes are one way of reducing the impact such flare-ups can have; many individuals who have suffered chronically with the condition have had to rethink their careers and for some – unfortunately – they have been unable to work at all.
Such changes in an individual's life not only take time for them to acclimatise to but also for their family and loved ones to adjust to as well.
Changing Diets
Another profound aspect of the condition can be the change in dietary habits. Many sufferers of the condition have had to forego chocolate, red meat (at least in large quantities), diary products and in some instances gluten-based products. This is not because of Fibromyalgia itself but because of the overlapping conditions we mentioned earlier such as Irritable Bowel Syndrome (IBS).
These products can cause the sufferer to have allergies which they were not prone to before but this is just another aspect of an illness that gives no warning as to its existence initially.
Physical Drawbacks of Fibromyalgia
These are many and varied from simple tasks such as walking, bending down to tie one's shoelaces or lifting one's arms above their head to remove a jumper. The condition moves right along the spectrum when it comes to physical endeavours and can have a knock on effect to an individual's love life; making love can be difficult due to muscle and joint pain and it can even lead to problems with libido or in the achievement of an erection for male sufferers.
Learning to Cope with the Restrictions of Fibromyalgia
It is fair to say that many Fibromyalgia sufferers can still enjoy a reasonable standard of living and although the condition is one that has no cure it can be improved upon with changes to diet, physical activity and lifestyle as we have mentioned.
For those sufferers who suffer from the more chronic sort of Fibromyalgia it is unfortunate but necessary that they adjust to the fact there are certain things they will not be able to do. Your doctor will advise and support you through this difficult time and may suggest either a short course of anti-depressants to help with stress or suggest you join a self-help group where you can discuss your feelings with other like-minded sufferers.
It is also worth considering the possibility of new hobbies or activities to supplement those which you can no longer participate in; it is important to remember that although you may not be as active as you have been this does not mean that you have to stop doing things you enjoy, merely moderate the manner in which you undertake them.
You might also like...
Hi, I'm 31 this month and i believe i have been suffering from FM symptoms, I have pain most of the day, it takes me about an hour to feel slightly normal in the mornings due to stiffness etc, I feel like i have done a full work out in the gym, Im so tired and i ache all over....For about 12 years i have had issues with my Left knee, Since my last flear up in September 2013i have had blood test's for rheumatoid arthritis, x-rays, i attend Pain management therapy and have accupuncture and i am also taking Nortriptyline.... After discussing my symptoms with OH at work and my Accupuncture theripist they both mentioned getting checked out for FM, also my accupuncture theripist said that i'm haveing all of the treatment for FM anyway. it would be nice to have a lable to what i have.
MrsShipo
- 6-Jun-14 @ 11:25 AM
I was diagnosed with Fibromyalgia 3 months ago. I am still finding it VERY hard to adjust. My pain levels have been assessed as Chronic and so far medications have had little effect. My original plan was to return to work, but it's looking more and more unlikely now, especially as daily tasks including showering almost completely wipe me out the the rest of the day. At 41, I still feel I'm relatively young and am annoyed with myself more than anything else, not because I have FM but because it's so frustrating having to keep explaining to others just how hard it is to do everyday things. If I hear one more person say, well you dont look ill to me, I swear, ill lose the plot.:0)
Lisamichelle
- 4-Aug-11 @ 1:30 PM
I have after 4 years just found out that i suffer from Fibromyalgia, I had an accident about 4 years ago and put it own to that also thaey told me i had wear and tear. Basically i thought i was going mad, the pain is unbearable and i cannot walk more than 50 yards, i get headaches funny bowel actions, and also i have put on loads of weight i do not eat no more than the rest of my family, so was annoyed with myself. I honestly thought i was going mad.
gail
- 8-Apr-11 @ 8:54 AM