How Fibromyalgia Can Affect Friends and Family
By: Suzanne Elvidge BSc (hons), MSc - Updated: 21 Aug 2012
|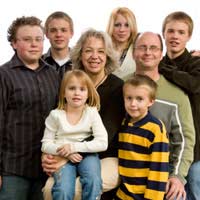 A long-term disorder like fibromyalgia syndrome doesn't only affect the person with the disease; it also has a far-reaching effect on friends and family.
However, it can be hard for them to understand all of the effects of the disease, especially as it is an 'invisible' condition – the person with fibromyalgia syndrome doesn't necessarily look unwell.
One of the keys to helping the impact of fibromyalgia syndrome on friends and family is explaining the condition and communicating the issues clearly.
Partners
Partners of people with fibromyalgia syndrome can struggle under the additional caring burden – it's important for them to remember that their partner is also having a tough time.
However, it's also important for the person with fibromyalgia syndrome to remember that the caring partner needs looking after too – if not from a practical perspective, then from an emotional perspective. This could include listening, caring, keeping positive, finding things that they can do together, rather than focusing on the things that they can't do together, and allowing the healthy partner to carry on with outside hobbies and pursuits.
Siblings
Because children with fibromyalgia syndrome have good days and bad days, sometimes they may not be able to keep up with household chores, which may cause problems with brothers and sisters. Healthy siblings may also struggle with a feeling that the child with fibromyalgia syndrome gets the lion's share of their parents' attention.
It could help if a friends or other member of the family could look after the child with fibromyalgia syndrome occasionally, so that the parents can spend quality time with the other children, perhaps doing an activity that the child with fibromyalgia syndrome would not be able to cope with. Counselling for the whole family may also help.
Another approach is to think of activities that everyone can join in with on bad days – craft projects, drawing, and painting.
Parents
Parents should avoid overprotecting a child with fibromyalgia syndrome – they should be treated the same as their siblings as far as possible, and encouraged to live a full and normal life.
Friends
Friends may want to be over-protective, and avoid suggesting activities that they think could be too much for the person with fibromyalgia syndrome – or even worse, just exclude them completely. It's perhaps more useful just to ask whether the person with fibromyalgia syndrome feels up to the activity in question.
Colleagues
People with fibromyalgia syndrome should be able to live a full and normal life, and this includes holding down a full or part time job. However, seeing that someone perhaps seems to 'get away with things', or who takes a lot of time off, can cause resentment, as others may have to take on a heavier burden of work.
Making colleagues aware of the condition and its effects can help, so that they do not feel that the person with fibromyalgia syndrome is lazy, a hypochondriac or someone who whinges, but not everyone wants to let on that they are ill.
You might also like...