Fibromyalgia in Old Age
By: Suzanne Elvidge BSc (hons), MSc - Updated: 14 Nov 2020
|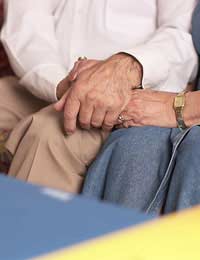 Over the long term, some people with fibromyalgia syndrome do find that their symptoms improve or go away completely. However, in some people the symptoms do remain life-long, and as fibromyalgia syndrome should not have any effect on someone's expected lifespan, many people with the syndrome will find their symptoms continue into their later years.
Can Fibromyalgia Syndrome Develop in Older People?
Fibromyalgia syndrome usually begins between at between 35 and 60 years of age, and is most common in women of childbearing age, but it can begin in older people (or in children). The average age that fibromyalgia syndrome starts is around 45.
There have not been many studies of older people with widespread pain (including fibromyalgia syndrome) who develop the symptoms in their later years, or have lived with the symptoms for many years, with or without diagnosis, but according to some studies, 7% of people aged 60 to 79 will have fibromyalgia syndrome.
Studies in Norway and Sweden have shown that people who had back pain or other chronic forms of pain were more likely to develop widespread pain (including fibromyalgia) in later life.
Symptoms of Fibromyalgia in Older People
People who develop fibromyalgia syndrome over the age of 60 generally get the same types of symptoms (fatigue, muscle stiffness, headaches, insomnia, poor short-term memory and inability to concentrate) as younger people. However, according to a small study, older people are more likely to report functional headaches (headaches not caused by a specific disease – includes tension-type headaches), and tension and anxiety, and are more likely to say that activity makes their symptoms worse.
Fibromyalgia Syndrome and Osteoporosis
Osteoporosis is a bone disorder where the bones become brittle and lose their strength. People become vulnerable to bone fractures and lose height as the vertebrae (bones of the spine) become compacted, and may develop back and neck pain. Osteoporosis is most common in women past the menopause.
Osteoporosis may be more common than usual in people with fibromyalgia syndrome as they age, especially after the age of 50.
Treating Fibromyalgia Syndrome in Older People
The diagnosis of fibromyalgia syndrome is harder in older people because the symptoms may be confused with symptoms of other disorders, such as multiple sclerosis, rheumatoid arthritis or osteoarthritis.
Using drugs to treat fibromyalgia syndrome or any other form of disorder in older people is also more complicated because older people are likely to take medications for a number of other disorders, and so run the risk of interactions between the medications causing additional side effects.
Exercise is an important part of the treatment in fibromyalgia, and it also helps keep weight down, which reduces the stresses on the joints. Older people may find it hard to take part in exercise because they cannot get to classes, or they have other problems that reduce their movement, like osteoarthritis. If older people can get to a pool, swimming is a good form of exercise, because it is aerobic without having a high impact on the joints. For people who cannot travel, exercise DVDs with gentle exercise yoga and Pilates programmes can be a good alternative – there are some designed for older people or people with reduced mobility.
You might also like...
I don't know if I have fibromyalgia but 3 months ago I had a migraine which led to chronic neck ache. Now I have pain in various parts of my body including arms and buttocks! My sleep is fitful and memory poor. I have had periods of depression. As I am in my late 60s but never had these issues before how will I know whether this is the case? Doctors are only doing telephone consultations.
Maggie
- 14-Nov-20 @ 7:26 AM
I am 68 years old and have fibromyalgia very bad I had an hysterectomy at the age of 42 and was put on Premarin hrt and had it on and off all these years do you think it could be fluctuating hormones causing me to have fibromyalgia worse,is there a test for hormones
Lyn
- 14-Jul-18 @ 1:28 PM
I have fibromyalgia very bad I am 68 years old and had an hysterectomy at the age of 42 I was put on Premarin hrt and had it on and off all these years does anyone think it could be fluctuating hormones making my fibromyalgia worse and is there a test for hormones
Lyn
- 14-Jul-18 @ 1:23 PM