Changing your Diet if You Have Fibromyalgia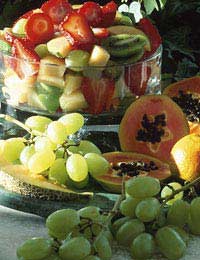 Many individuals who suffer from the condition Fibromyalgia find that they are required – usually under advisement from their doctor – to make changes to their diets. These changes are sometimes only small and require a reduction in the intake of certain foodstuffs but other dietary changes may be more significant.
Why are Dietary Concerns Important in Cases of Fibromyalgia?
One of the most important reasons dietary concerns are important when it comes to Fibromyalgia is the sometimes sudden reduction in the amount of physical exercise the sufferer can undertake. Some sufferers are susceptible to what are known as 'flare ups' which may only last a day or two at a time and then ease off whilst other sufferers may find that their condition is more acute and can leave them feeling unwell for long periods of time.
These 'flare ups' when they last for long periods often lead to a reduction in physical exercise and movement the result of which being that the sufferer burns off fewer calories which in turn causes what they eat to metabolise and become additional weight. Indeed quite a number of Fibromyalgia suffers in the United Kingdom have struggled with their weight simply because they are in too much pain to exercise in order to reduce it. This in turn can have implications on the sufferer's digestive system and also their heart and lungs.
What Foods Should I Avoid?
When it comes to putting on extra weight many of us would admit to eating too much of what we refer to as 'comfort food'. Dairy products which contain full fat milk, meat, bread, potatoes (or other foods containing high amounts of starch) are always high on the list of foods to try and avoid if possible.
Of course it is not simply a case of just stopping when it comes to eating these foods. Many of us would admit also to having to be weaned off certain foods we enjoy and to have them replaced with healthier options. Financial considerations also have to be taken into account as many sufferers of Fibromyalgia live on a low income so a daily intake of fruit and vegetables and healthier option foods is not always cost effective.
Cigarettes and Alcohol
Again a high number of Fibromyalgia sufferers smoke and drink and these are things that are also difficult to break away from. It may be easier to stop drinking but when it comes to smoking anyone who tries to give up smoking without proper advice and support will invariably quell their cravings for nicotine by turning to food which in turn brings about weight gain. So there is in essence a vicious circle to beware of.
Diet Together
If you have someone living with you or live with someone who suffers from Fibromyalgia then it may be an idea to try dieting together. A lot of us are not at our optimum weights so therefore dieting together can be beneficial to both parties and also having someone diet with you can add much needed support and morale.
As always when it comes to issues of health you should consult first with your doctor and seek his or her opinion. They may be able to offer advice and support and perhaps put you in contact with a dietician or nutritionist who can help you plan your diets and daily intake.
You might also like...