Vitamins and Diet Supplements For Fibromyalgia Sufferers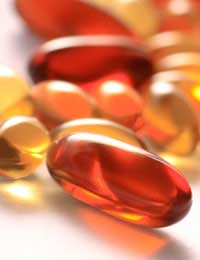 An important aspect of anyone's health and well being is a steady and regular intake of vitamins that helps the body to fight against illness and also helps keep the body's natural functions in good working order.
This is especially important in the case of someone suffering from Fibromyalgia or M.E (Myalgic Encephalomyelitis) as the body can sometimes feel very run down even when the mind of the sufferer is fighting fit.
Regular Vitamins
One aspect of vitamin intake that is very important is the right diet. Dietary considerations for anyone who is ill are something that should be taken seriously and no more so when that individual has difficulty with muscular function and joint pain.
Important sources of vitamins in an everyday diet are:
Where possible you should try and eat as much of the above as you can as part of your regular daily food intake without going over the top. Certain foods such as meat and vegetables in too large a quantity can cause indigestion and other digestive problems
As part of your vitamin intake you should be looking to take onboard equal amounts of Vitamin A, B and C - studies have shown that sufferers of Fibromyalgia and M.E (Myalgic Encephalomyelitis) often show a need to increase their vitamin intake and should do so either in the form of the aforementioned food stuffs or as vitamin supplements taken orally.
Diet
Vitamins and minerals are important to help the body fight against infection and also to help the muscles and joints in their own fight against the onslaught of Fibromyalgia. However because both Fibromyalgia and M.E (Myalgic Encephalomyelitis) can be debilitating and often leave the sufferer in a position where they have to spend a lot of their time without exercise a balanced diet is necessary to ensure that their weight does not spiral out of control. Many sufferers find that their weight will increase as their mobility becomes less and less.
Creating a diet plan - with the aid of your doctor or dietican at your doctor's bequest - is an ideal way to ensure that not only do you eat healthy but you eat the foods which are going to give the body all the natural vitamins and minerals it needs.
Royal Jelly
A regular intake of Royal Jelly is a good way to help your immune system if you are a sufferer of Fibromyalgia or M.E (Myalgic Encephalomyelitis). Royal Jelly is a mixture of minerals, vitamins, nectar and natural sugars and has been linked to improvements in mental awareness as well as a reduction in skin problems such as eczema and acne (two skin problems which are synonymous with both Fibromyalgia and M.E sufferers).
As always, before embarking on any course of vitamins or supplements one should contact one's doctor and make sure that there will not be any complications such as allergies.
Your doctor should ideally be able to sit down with you and help you work out a diet plan that will help you get the best from the vitamins and minerals contained in the foodstuffs as well as give you some indication as to how much exercise you can participate in to help keep your joints and muscles in working order.
You might also like...