Dopamine Agonists in Fibromyalgia Syndrome
By: Suzanne Elvidge BSc (hons), MSc - Updated: 4 Sep 2017
|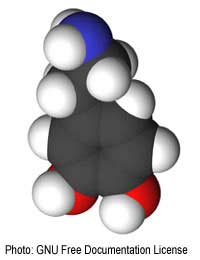 Dopamine is a neurotransmitter produced the brain, which carries messages between brain cells. Amongst other things, dopamine is involved in thought, behaviour, movement, sleep, mood, attention, and learning, as well as the perception of pain.
Dopamine works by binding to five types of dopamine receptors on cells, known as D1, D2, D3, D4 and D5. A dopamine agonist is a drug that will bind to one or more of the dopamine receptors.
Dopamine In Fibromyalgia Syndrome
There is a theory (the 'dopamine hypothesis of fibromyalgia') that fibromyalgia syndrome is caused by problems with dopamine neurotransmission.
Dopamine is involved in the perception of pain and in pain reduction, and pain is a key symptom in fibromyalgia syndrome. Dopamine also appears to be important in restless leg syndrome, which has symptoms of burning, itching or crawling sensations under the skin, resulting in an irresistible urge to move the legs, especially in the evening and night. Restless leg syndrome is common in people with fibromyalgia syndrome.
Another link with dopamine is that fibromyalgia syndrome is associated with stress (including emotional or physical trauma, viral infections and disease), and stress reduces the body's levels of dopamine.
Some companies are developing dopamine agonists for the treatment of fibromyalgia syndrome. See also 'Drugs in Development for Fibromyalgia Syndrome' for other approaches to the treatment of fibromyalgia syndrome.
Neupro (rotigone)
UCB is developing Neupro, a transdermal (delivered through the skin) form of rotigone for the treatment of fibromyalgia syndrome and restless legs syndrome. Neupro is a dopamine agonist and is available in Europe and the USA for the treatment of Parkinson's disease.
Neupro is in phase II trials (mid-size trials) for fibromyalgia syndrome. In Parkinson's disease studies, side effects included side effects were skin reactions where the patch was applied, nausea, headache and tiredness.
Mirapex (pramipexole)
Mirapex was developed by Boehringer Ingelheim, and is a D3 agonist used in the treatment of Parkinson's disease and restless-leg syndrome.
In a study of patients with long-term and severe fibromyalgia syndrome, Mirapex significantly reduced pain. Side effects included anxiety, which wore off as the trial went on, nausea and weight loss.
The European League Against Rheumatism (EULAR) recommends the use of Mirapex in the treatment of fibromyalgia syndrome, to reduce pain.
This is an off-label use (used outside the indications that the drug is officially approved for), and the company does not appear to be developing pramipexole for fibromyalgia syndrome.
Requip, Ropark, Adartrel (ropinirole)
GlaxoSmithKline developed requip, a D2 and D3 agonist, for the treatment of Parkinson's disease and restless legs syndrome.
In reports from doctors on fibromyalgia syndrome patients treated with Requip, there appears to be a reduction in pain and tenderness,
GlaxoSmithKline conducted a phase II trial with ropinirole in fibromyalgia syndrome, but this did not appear to be any more effective than placebo (dummy pills).
Side effects may include depression, anxiety, dizziness, nausea and disturbing dreams, but these appear to be temporary.
This is an off-label use, and it is not clear whether the company is developing Requip for fibromyalgia syndrome.
You might also like...
Is fibromyalgia linked to Parkinson's Disease due to the involvement of Dopamine?