Choosing a Walking Aid
By: Suzanne Elvidge BSc (hons), MSc - Updated: 19 Aug 2019
|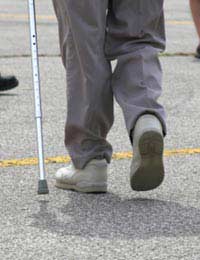 It is important to keep exercising after a diagnosis of fibromyalgia syndrome, as it maintains strength and mobility, helps with pain, improves confidence and symptoms of depression, and guards against weight gain, which puts further strain on painful joints and muscles. Walking is a simple and cheap form of exercise, and is lower impact than running.
Some people with fibromyalgia syndrome struggle with walking, whether it's because of pain, weakness, tiredness or dizziness, and a walking aid, such as a walking stick, crutch or walking frame, can provide support and confidence. Be aware that any additional exercise can cause some extra pain as unused muscles and joints get used to the workout – talk to a doctor or physiotherapist if this becomes a concern.
It is important to be measured properly for all walking aids, as otherwise they can cause shoulder, arm and back problems.
Should You Use a Walking Aid?
Some people with fibromyalgia syndrome find that their muscles become very stiff, particularly over night, and this makes their walking unsteady. Crutches or walking sticks can help with this. For people who are afraid of falling, a walking aid provides confidence.
Walking aids provide a visible 'badge' of disability. As fibromyalgia syndrome is an invisible disability, some people may find this helpful. However, others may find that this invites discrimination or too close questioning into something that they want to keep quiet.
Some people with fibromyalgia syndrome become concerned that using a walking aid may mean that they become dependent on it. This is possible, but using a walking aid can also improve confidence, muscle tone and stability, so allowing people more independence. If dependence is a concern, once fitness is improved with the walking aid, try walking a little further each day without the walking aid, or invest in a walking stick (or two) that can be folded up and carried in a bag – just knowing that it is there if needed may give the necessary confidence.
It's a good idea to try different walking aids – some people may find some easier than others, and the choice of a walking aid can also depend on the pain on that particular day.
Walking Sticks
Walking sticks should be the right height to avoid bending over when using them (adjustable ones may be useful), and should have a rubber ferrule on the end to avoid slipping. They should also be lightweight but strong – a stick that is too heavy can put a strain on already sore muscles. Some lightweight walking sticks can fold down small enough to fit in a handbag or a large coat pocket, so can just be used when needed.
Walking sticks now come in all colours and designs, from bright coloured aluminium ones to wooden ones with brass ornamentation – pick one that suits your style. Some people find that walking poles like those people use for cross-country walking can be helpful.
Crutches
Walking sticks can be a strain on the hands or wrists, and a set of crutches with soft padding might be more comfortable, and provide more support.
A physiotherapist will explain the correct way of walking with crutches – people with fibromyalgia will generally find the two point gait or the four point gait methods the easiest and most comfortable:
Two Point Gait – Two Stages
1) Move the left crutch and the right foot forward at the same time
2) Move the right crutch and the left foot forward at the same time
Four Point Gait – Four Stages
1) Move the right crutch forward
2) Move the left foot forward
3) Move the left crutch forward
4) Move the right foot forward.
Walking Frames
Walking frames provides extra support, but can be difficult to use on uneven ground. Some walking frames have a built in seat or shopping bag, allowing for a rest, or an easier way to carry things without using hands.
You might also like...
I'm finding it hard to except that I need a walking aid. I have a mobility scooter for when I'm out for longer with my family, but being only 34, it's awful when people stare at your because your a disabled person who needs help. Not a young independent person living life to the full. I can't find a way past it, but need to start exercising a little due to weight gain, because I've trying to ignore it and be normal, which isn't ever going to happen now as things have gotten a lot worse since having my daughter 2 years ago. Hating reality!!!
aebe2013
- 19-Aug-19 @ 9:24 PM
Hi I am due to go to fibro clinic next month for first time I'm struggling at the min I'd like arm crutches to help please can you advise as to who can help me get these please and we're from. Regards Lorraine.
Loz
- 13-Nov-18 @ 11:45 PM
Hi I have had fibromyalgia for 10yrs now and since RTA it's gone worse I have sons old crutches which I started using and helps should I tell.my Dr for crutches?I have diabetes type 2high blood. And asthmatic also and take many medications.
Shelly
- 2-Aug-17 @ 1:09 PM
I'm 31 and have recently been diagnosed with Fibromyalgia.I walk with two fisher sticks but they hurt my wrists and the palms of my hands. Can anyone recommend any other aids?
RH
- 19-May-15 @ 12:52 PM
Hi. It is hard for me lately to get about. Does it help anyone else with fms to use a scooter on busy days? The pain & fatigue are terrible often. I welcome any useful comments. Thank you.
Chuckles
- 24-Aug-14 @ 7:41 PM
Ive had a baby at 38 got fibromyalgia and have trouble walking. I dont want to live this way till im dead. Does it go away with old age?
Jen
- 26-Mar-12 @ 11:09 AM