Seeing a Rheumatologist for Fibromyalgia Relief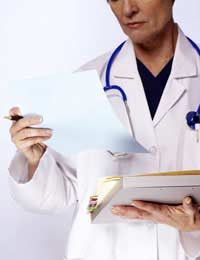 For the many people suffering from fibromyalgia, finding a suitable treatment may be a long and arduous process. Seeing a rheumatologist for relief of fibromyalgia pain relief may be one option. It should be noted however, that the level of intervention from this type of specialists may differ between patients depending on their official diagnosis based on a series of tests and it may be necessary to seek other options for more suitable forms of fibromyalgia treatments.
What Is A Rheumatologist?
A rheumatologist is a medical doctor who specialises in the diagnosis and treatment of disorders concerning the joints and the soft and connective tissues of the musculoskeletal system.They have a distinct interest in factors relating to the auto-immune system and how this affects the muscles and joints.
They work closely with physiotherapists and occupational therapists and the treatments offered often combine these treatments with a complex medicine regime that aims to alleviate the pains and strains pertaining to the musculoskeletal system.As these specialists have a particular interest of arthritis among other disorders, they are often the best people to decide whether the patient has such a condition or whether something else may be causing their problems such as chronic fatigue syndrome or fibromyalgia.
What Pain Relief May They Offer?
Your GP may have referred you to a rheumatologist as a method of achieving or discounting arthritis or other similar conditions as a diagnosis. Due to the complex nature of fibromyalgia, it is important to rule out other more likely causes of the pain and discomfort before the diagnosis of fibromyalgia can be made.Most rheumatologists will make a full assessment of the patient before deciding any treatment.Once a full assessment has been carried out they will then be able to decide which course of treatment is most suitable for each patient.
As fibromyalgia is often mistaken for arthritic conditions the rheumatologist can try and determine whether the patient actually has arthritis or another known medical disorder or whether the diagnosis of fibromyalgia is likely.As mentioned earlier, the pain relieving treatment often means a combination of physiotherapy and pain relieving medicines.The medications offered are usually non-steroidal anti-inflammatory drugs and those that can reduce swelling of the surrounding tissues.
What If It Doesn't Work?
Of course this course of treatment may not offer everyone the same level of pain relief for the pain associated with fibromyalgia and it may be necessary to pursue an alternative avenue for symptom relief such as a complimentary therapy or adjustment of pain relieving medications.
However there still may be some benefits of seeing a rheumatologist as they may be able to either conform or discard the diagnosis of fibromyalgia. They may also be able to help diagnose other problems such as those concerned with the bones and joints that otherwise may have gone undiagnosed and therefore untreated.If your rheumatologist decides that you have fibromyalgia, they may well simply refer you back to your normal GP who can then decide whether you should be referred to another specialist or whether to re-assess your medications with the aim of finding a suitable regime that helps achieve fibromyalgia relief.
Fibromyalgia can be a very distressing condition for the suffer as finding a specific diagnosis can be difficult. Once a diagnosis is made achieving a level of pain relief suitable to the person can seem equally problematic and referral to other specialists may be necessary.
You might also like...