Reflexology and Fibromyalgia Relief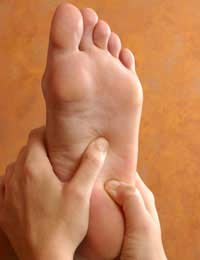 Anyone suffering from chronic fibromyalgia will understand how difficult it can be to find relief of the symptoms and many sufferers are open to new ideas regarding methods of relief. It may be possible for some sufferers to find some or almost total relief using reflexology, however it may not work for everyone.
What Is Reflexology?
Reflexology is an ancient Egyptian practice that involves placing pressure on certain points of the feet (and occasionally hands) that are thought to correspond to other parts of the body. This practice is believed to be useful not only for helping relieve the symptoms of certain disorders, but also in the diagnostic process.
How Does It Work?
Following analysis of ancient drawings showing figures demonstrating reflexology, and with further and more modern research, experts have found that specific points on the hands and feet seem to match or mirror the organs and tissues of the body. By applying varying degrees of pressure to these corresponding points, the organ or tissue can be analysed and treated as an extension of common medical practices.
As the practice does not involve any medications or equipment it is deemed to be safe with no side-effects.The overall aim of reflexology is to release tension and build up of uric acids and calcium deposits from the body. It also promotes healthy blood flow to the tissues and organs by freeing the channels of energy throughout the body.
How Might It Help Fibromyalgia Sufferers?
It is recommended that those suffering from fibromyalgia attend a reflexology session between two and five times per week depending on the severity of the symptoms.
Results may be further enhanced by combining reflexology with other forms of complimentary therapy such as aromatherapy and massage as this will further relax the person and relieve the tension and build up of stress that can occur with the condition.
Where Can I Receive Reflexology?
It is unlikely that you will be able to get reflexology funded through the NHS even though it is recognised as beneficial for some patients.
There are a number of clinics that are run in NHS settings but they often charge a fee for use of the service; using these clinics however does reassure the patients that they are being treated by fully trained staff who keep themselves abreast of new developments and understand if the treatment is offered as a supplement to conventional medicine.
If you would like to try reflexology for symptomatic relief for fibromyalgia you can find a practitioner and book it privately and independently from the NHS.
It may be possible to get a recommendation from your GP who may know of local reflexologists and which ones offer the service specifically for fibromyalgia sufferers though this may not occur in all GP practices.
Prices for this service are extremely variable and may depend on the location of the therapist, whether you go to them or if they are happy to come to your home, how much training they have received and whether they specialise in any particular diseases and conditions.
A simple internet search or browse through your local telephone directory will reveal a number of reflexologists though it is recommended that you research the experience, qualifications and specialities of each practitioner, as some may be more focused on fibromyalgia symptom relief than others and be trained specifically in this area.
Fibromyalgia can be an extremely debilitating condition and often the sufferers are willing to try this type of therapy even if it offers temporary relief of their symptoms and this includes the practice of reflexology.
You might also like...