How Massage Therapy Can Help Fibromyalgia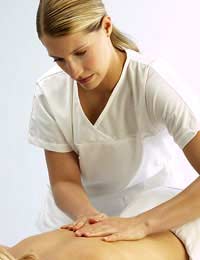 The benefits of massage are now very well understood and are an integral part of many health related professions. Not only can it help with physical conditions it can also be extremely good for relieving mental stress and tension, even being used as a pleasurable activity in the home.
What Exactly Is Massage?
Massage is the activity of manipulating, rubbing and kneading the soft tissues of the body which can include the muscles, skin and fat layers. It can be performed on a one to one basis involving one person having direct physical contact with another normally using their hands to perform the act or it can be done using aids such as wooden roller-balls.Although it may seem as though massage for the relief of physical and psychological symptoms is a relatively new practice, it has in fact been around for thousands of years.
How Does It Help Those Living With Fibromyalgia?
The main symptoms of fibromyalgia are aches and pains of the muscles and joints, which suggest that massage therapy could be the perfect solution. Most fibromyalgia sufferers find their stiffness and aching is worse in the morning so regular massage therapy may help to loosen the joints relieving some of the symptoms.
The actual biological processes and benefits that occur during massage therapy are not fully understood but it is thought that it could be related to releasing pressure on nerves and also stimulating the production of endorphins which are the body's natural pain killers.
In some cases it may be recommended that the massage is combined with hot or cold therapy which involves the introduction of warmed up or cooled down items that are used in conjunction with the massage. It may also be useful to combine the massage with some aromatherapy which can further enhance the relaxing benefits of the massage.
It is vital however, that you receive the massage from a trained professional and do not simply ask someone at home to help you as they may be causing more damage.
Can It Be Dangerous?
In some cases massage can be dangerous if it is not performed by a trained masseuse or physical therapist especially if you have a known skeletal-muscular disorder or neurological condition. If you have an existing injury or known medical condition always ask your GP or specialist before receiving the therapy.
Where Should I Go For More Information?
If you have fibromyalgia the first place you should go to for advice is your GP. He or she may be able to refer you to a professional massage therapist or at least recommend a therapist in your area. It is also important to inform your GP of your desire to try massage therapy as in some cases it may not be suitable or you should only receive the therapy from a fibromyalgia specialist.
For most people, massage therapy is an excellent way of trying to reduce the symptoms of fibromyalgia and not only might it improve your overall health, but it may eliminate the need for so many medications that are often needed to control the symptoms of fibromyalgia.
You might also like...