Sweats and Flushes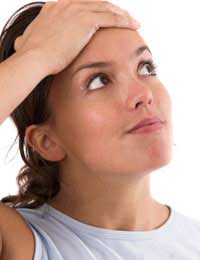 A common problem among sufferers of Fibromyalgia and M.E (Myalgic Encephalomyelitis) are sweats and flushes which can come and go without any warning being given.
Temperature Control
Sufferers of Fibromyalgia and M.E (Myalgic Encephalomyelitis) experience problems with Temperature Control; this means that whilst those around them are cold they are warm and vice versa. It also means that their body temperature can rise and fall without warning and without any fevers being present.
This problem is most evident at night and is referred to by many as 'Night Sweats'; indeed many sufferers report waking in the night to find themselves drenched in sweat whilst their partner is cold next to them.
Dealing with Sweats and Flushes
This is something that is difficult to do if you are a Fibromyalgia or M.E (Myalgic Encephalomyelitis) sufferer; the biggest problem being that the sufferer does not know when the problem is likely to arise. It can arise – as we have already mentioned – at night when they are asleep and this can rouse them from a sleep leaving them fatigued and unable to get back to sleep again.
Likewise the problem can arise at any time – not just at night – and the sufferer is likely to find his or herself feeling uncomfortable during the sweat. Sometimes it may be nothing more than a mild sweat which manifests itself on the brow and face or it can be a full body sweat which leaves the sufferer feeling irritable, restless and uncomfortable.
Regulating Your Temperature
Again this is not something that is easy to do especially if you are working in an office environment. It is difficult to tell with these sweats and flushes just how your body's temperature will go – it may go up or it may come down. Whichever way it goes it is almost impossible to predict in advance.
If you are going outdoors and the weather is hot wear something light and airy but take a jacket with you just in case. Should you begin to feel cold you could wear the jacket until your body's temperature regulates itself. The reverse applies if you should be going out in cold weather.
At home you have the luxury of wearing what you want and if you are not planning to go anywhere a loose fitting pair of track bottoms, shorts or pyjamas are a good way of keeping your body cool and aired.
Should you feel flushed or begin to sweat take a shower; the best way in which to do this is to go with how your body feels. If you are hot take a warm shower, if you are cold take a lukewarm shower. This is a good way of regulating the body's temperature without shocking it.
Allowing Your Skin to Breathe
When you go to bed at night try wearing something light and airy so that your skin can breathe through the material; likewise should you feel so inclined sleeping in the nude is also a good way of letting the skin breathe. You should consider also the possibility of a small fan in your bedroom. Switch the fan on if you become too hot and off when you cool down.
It is also worth while checking the 'tog' of your quilt; light quilts in the summer months and heavier quilts in the autumn and winter months so that your body does not draw too much or not enough heat.
Consult Your Doctor
As always it is worth consulting with your doctor so that he or she can ensure these sweats and flushes are not caused by any other medical condition which may have gotten camouflaged by the Fibromyalgia.
You might also like...