Night Terrors and Post Traumatic Stress Disorder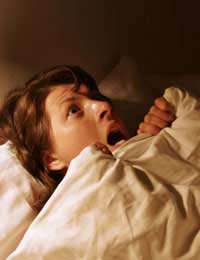 What are Night Terrors?
Night Terrors - contrary to what many people might think - are not the same as nightmares. Indeed where a nightmare may be quite frightening and you may wake from it with a sudden start and feel momentarily disorientated; night terrors are something far more severe and intense.
A night terror occurs within the first two or three hours of a sufferer's sleep and can be potent enough to arouse them from their sleep with a scream or cry; this is traumatic enough but add to this the fact that the sufferer may also not be able to move and you have something that is very serious indeed.
What are the Symptoms of Night Terrors?
#There are a variety of different symptoms associated with Night Terrors but here we list the most commonly experienced among sufferers:
Increased heart rate
Heavy sweats
Pins and needles
Confusion upon waking up
Screaming or crying in ones sleep
It is important to note also that some of these symptoms are also associated with conditions often referred to as anxiety attacks; in essence night terrors are anxiety attacks that occur during ones sleep and are often misdiagnosed as either nightmares or in some cases Post Traumatic Stress Disorder (PTSD).
Many sufferers of Post Traumatic Stress Disorder (PTSD) often relive events that they have been involved in during their sleep and these 'dreams' can often seem as real as the events themselves.
When am I Most Likely to Suffer from Night Terrors?
As we have already mentioned many people suffering from high levels of stress often experience Night Terrors as the brain tries to subconsciously process a whole series of thoughts and emotions that the sufferer has put to one side whilst they were awake. In addition to this a sufferer may experience Night Terrors usually after the first hour and a half of sleep.
This is called the 'REM Stage' - REM standing for Rapid Eye Movement - you may have noticed this when your partner or perhaps child is asleep and you can clearly visualise their eyes moving behind their closed eyelids; this is what is known as the REM Stage.
How to Deal with Night Terrors
This is perhaps the most difficult part of the problem with Night Terrors; the problem can be medicated but therein lies a whole new set of problems. If you consult your doctor and he or she prescribes medication to help you sleep you may find that you are unable to get up in the morning or are feeling listless and suffering what many consider to be the effects of a hangover without the intake of alcohol.
Your doctor may try you on a variety of different medications in order to find the one that allows you to sleep yet function normally the next morning.
However most individuals who suffer from Night Terrors find that talking about their dreams - or nightmares - and also about the amount of stress they are under, helps greatly.
It is important to talk about things if you are stressed whether it be a stress at work or a problem at home; indeed those individuals who suffer from chronic illnesses such as Fibromyalgia often find that they suffer from high levels of stress more often than not because they are unable to function in the normal way and carry out day to day tasks without becoming sore or tired.
These too are discussions you should have with your GP in order for he or she to help you find ways in which to deal with the problem.
You might also like...