Mould and Yeast Infections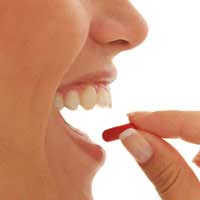 There are many sufferers of Fibromyalgia and M.E (Myalgic Encephalomyelitis) who will find themselves at some time suffering from a mould or yeast infection. This is just another one of the many overlapping conditions that sufferers of Fibromyalgia have to endure.
What is Candida?
Candida is the medical term for Thrush but is not limited to the lower regions of the body. Each of us produce yeast in our bodies naturally but sometimes there can be an over-production which leads to Candida forming.
Candida can form in the mouth and is known also as Oral Thrush. The problem can also cause some of the following in the sufferer:
Bloating
Unsightly coating on the tongue
Indigestion
Itching
Yeast growth on the skin
Fatigue
How Does The Condition Flourish?
The yeast which is present in all of our bodies can sometimes be allowed to overgrow as it were if we eat too much of a particular kind of food. These foodstuffs can act as a trigger mechanism which causes the yeast that is normally working in tune with those micro organisms in the gastrointestinal track to repel its friendly bacteria and act as a fungal growth on the inside. This then makes its way through the body in any way it can and can head for the bladder or the rectum.
Foodstuffs containing high levels of sugar (including sweeteners), as well as alcohol and cheese can cause the yeast in our bodies to go into a sort of organic overdrive which leads to some of the symptoms we have mentioned above.
How Do I Deal with Candida?
The first thing to do if you are experiencing any of the symptoms mentioned previously, is to make an appointment to see your doctor. He or she will be able to diagnose the problem relatively quickly and should then be able to describe the correct medication - normally an antibiotic - to bring the problem under control.
As mentioned previously there are any number of foods and ingredients within foods that can cause the problem to get out of control so it is important to consult with your doctor and/or a dietician as to the nature of your lifestyle and your diet. You may find that you need to make some changes to what you eat and equally how much of it you eat.
Vitamins
Sufferers of Candida and other yeast infections often find that they are missing out on necessary vitamins that can help control the yeast within their bodies. You should ensure that you are taking the relevant amount of the following vitamins:
Vitamin A
Vitamin B
Iron
Vitamin B12
Folic Acid
Folic Acid is especially important if you are an expectant mother or indeed are a female trying to conceive.
Further Information
As always we recommend that you consult with your doctor if any of the symptoms we have listed are apparent in your particular case. It is also important to heed the advice given to you by your doctor especially when it comes to changes to diet and lifestyle.
In addition to this it is a good idea to have some sort of exercise routine in place; as a sufferer of Fibromyalgia you may not be able to indulge in demanding physical exercise so light exercise such as short walks is always a good place to start.
You might also like...