Is Fibromyalgia Hereditary?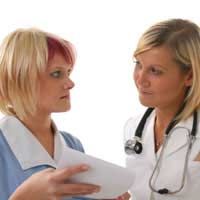 Many individuals believe that the condition known as Fibromyalgia is a hereditary condition and can be passed down from generation to generation. However studies have shown that although this is the case in some families it is not the case in others – here we look at the case for and against.
Is Fibromyalgia Hereditary?
Studies have shown in recent years – and most of these studies it should be pointed out were carried out in the United States as the medical community in the United Kingdom are still unsure as to the causes of Fibromyalgia – that there is roughly a twenty five per cent chance you will suffer from Fibromyalgia if one or other of your parents have suffered from it.
Information would indicate that women are more likely to contract the illness than men and that it can lie dormant in an individual's body until a traumatic event triggers it off. Such traumatic events would include:
Child birth
Pneumonia
Being involved in an accident
Problems with the Thyroid
Many mothers and daughters share the same symptoms of Fibromyalgia and indeed many daughters fall foul of the condition shortly after they have given birth to their first child. It would appear that there is a genetic link between mothers and daughters but the link between fathers who have the condition and their sons is not as easily identified. This may be because that although men can suffer from the condition there are not as many men suffering from it as there are women.
How Do I Know if I am Suffering from Fibromyalgia?
This is a difficult question and one that many doctors find difficult to answer; because Fibromyalgia and M.E (Myalgic Encephalomyelitis) both have similar symptoms doctors can sometimes misdiagnose the condition. Likewise because both Fibromyalgia and M.E (Myalgic Encephalomyelitis) exhibit overlapping conditions such as Insomnia, Irritable Bowel Syndrome (IBS) and Chronic Fatigue they are often difficult to diagnose at all.
Many patients suffering from either Fibromyalgia or M.E (Myalgic Encephalomyelitis) find that it can take anything up to two years before they receive a final diagnosis as to what the nature of their condition actually is.
There are symptoms associated with both conditions that should set alarm bells ringing and thus have you making an appointment to see your doctor. These include:
Insomnia
Fatigue
Heavy limbs
Headaches
Nausea
Pins and needles
Short-term Memory problems
if you suffer from any of the aforementioned conditions with any regularity you should make an appointment as soon as possible to see your doctor. Also it is worth while keeping a diary of your experiences so that he or she may make a more informed diagnosis.
What Should I Do if I am Diagnosed with Fibromyalgia?
If you have been diagnosed with either Fibromyalgia or M.E (Myalgic Encephalomyelitis) then the first thing is not to panic. This may sound easier said than done but you should try and remain calm and positive. Many individuals suffer from both Fibromyalgia and M.E (Myalgic Encephalomyelitis) and manage to live productive and active lives. However it should be said that if you have contracted the more chronic version then you may find activities that you took for granted more difficult and much more tiring.
Many people panic when they find out that neither Fibromyalgia or M.E (Myalgic Encephalomyelitis) have a cure; the most you can hope for is to keep the condition under control by taking regular breaks to rest, changing your diet and your lifestyle, and trying to remain positive throughout.
You might also like...
Wonder Woman- Your Question:
Hello I've had 5 children and have had many many horrific traumas in my life I was diagnosed with athritis. (((( which doc said ))))) but its was different as I new what Atheist is was as my mother had it. in 2005. then one day at work I collapsed with Uncontrollable pain all over my body.I had a dexa scan and it resuTed that I have fybromyalgia and borderline osteoporosis. so in 2009 my docter signed me off work.and since then I've been in such cornice pain.At first it took me 4years of so much stress to claim for dla.the hell I was pit threw Which made my illness worse. I felt so worthless as I've always worked all my life.I have many allergies. And avoid certain foods. I recently claimed for pip.And I have a walking stick I have all the symptom depression stiffness Fatique brain fog weight gain ,that due to la k of movement and amitripaline ,and because I signed but name they sd I was ok.and took it away from me. it's disgusting.how people get treated.they cause us more stress.but it's ok I recently married and my husband is so kind and helps me.Thankyou for listening and reading my comment. it's so lonly at times.
---
Our Response:
I'm sorry to hear your illness causes you loneliness and pain. But lovely that you have a kind husband to help you through.
FibromyalgiaSyndrome
- 7-Nov-16 @ 1:32 PM
Hello I've had 5 children and have had many many horrific traumas in my life I was diagnosed with athritis ... (((( which doc said ))))) but its was different as I new what Atheist is was as my mother had it .... in 2005 ... then one day at work I collapsed with Uncontrollable pain all over my body .....I had a dexa scan and it resu Ted that I have fybromyalgia and borderline osteoporosis .... so in 2009 my docter signed me off work ...and since then I've been in such cornice pain .. At first it took me 4years of so much stress to claim for dla ....the hell I was pit threw Which made my illness worse ... I felt so worthless as I've always worked all my life . I have many allergies . And avoid certain foods ... I recently claimed for pip . And I have a walking stick I have all the symptom depression stiffness Fatique brain fog weight gain ,that due to la k of movement and amitripaline ,and because I signed but name they sd I was ok .and took it away from me ..... it's disgusting ....how people get treated .they cause us more stress ......but it's ok I recently married and my husband is so kind and helps me .. Thankyou for listening and reading my comment .... it's so lonly at times ...
Wonder Woman
- 6-Nov-16 @ 10:05 PM
I have had fibromyalgia since I was 15 I am now 51 . Over the years symptoms have become worse ,and I have been on every medication possible. Tablets work for a while then stop working. I am on antidepressants for depression and mood swings . My wife has been wonderful but it is has really put a strain on our relationship
lab1
- 28-Apr-16 @ 5:52 PM
Hi I can totally relate to what you all are going through. I've had fibromyalgia since I was 5. I'm now 33 years old. Well when I look back at my symptoms it all makes sense. I've always had a deep aching pain that would come in go in my legs and arms. It might be one leg or both legs and one arm. The doctor just passed it off as growing pains. As an adult I know better and understand that children are rarely diagnosed as having fibromyalgia. I also would get headaches and really bad stomach aches. Still to this day I have these intermittent symptoms along with other more apparent aggravation. Some days I feel like I have the flu and on mornings wake up still and unrefreshed. I get tension in my neck and face. I get pain in my shoulders and back. Some days I get knots in my back that radiate a pain all the way through my shoulders to my arms that feels like nerve pain like neuropathy. I have tender points all over my body including my rib cage. Every single morning and night before bed, I have rhinitis. I have terrible chemical sensitivity, I've never been able to drink milk without throwing it up. I can't even tolerate cheese, ice cream or milk chocolate anymore. I'm nit regular and can go a week easy w/o having a bowel movement. I suffer from gas, indigestion and what feels like ulcers on some days. I have issues with itching, raised sore rashes, and a scratch will leave a dark spot on my skin. I get headaches, on some days I fatigue easily and have no energy. Some days I have extreme light sensitivity, my eyes water and I get the worse headache. Some days I feel depressed. Some days I experience dizziness and motion sickness. Usually I can tell that my fibromyalgia is acting up bc my symptoms will overlap. I usually just take a Arthritis type BC powder for pain. I take Miralax in my coffee and my probiotics to stay regular. I find that deep tissue massage helps with back tension. Usually if I wake up stiff after moving around, about 30 mins later the stiffness dissipates. So exercise and stretching is key. Plenty of water, vitamins, minerals and a healthier diet is essential.
Ann
- 22-Sep-15 @ 10:28 PM
Hi I was diagnosed with fibro 5yrs ago only in the last 10month iv had improvement in my condition but I was fully bed bound needing to be hoisted up into my wheelchair every day and was a total nightmare iv been having physio and lost 40kg by taking myself off one of my medication for fibro that was nit helping me I'm on morphine pills and liquid iv just been diagnosed with osteoarthritis I have had over the last 5yrs diagnosis of. ME ,IBS, ENLOS DANLOS SYNDROME (EDS)TENTION HEADACHES AND CFS , I also have a non epileptic seizure disorder that I started with,at 18just after birth of my 2nd child iv been on disability since 18because of the sezuires and have had to add more and more conditions as they have been diagnosedthe OA way diagnosed 22days ago but I really can't cope with all of this anymore and the fibromyalgia seems to be going more backwords again the pain is 100%more than 3 months ago and even then I would have scored the pain at a 6-7out of ten with my pain killers ect I feeling so depressed again I want to just fall into a dark hole and be left alone I know I can't do that I'm terrified for my youngest daughter's as they starting to show signs of fibro of m.e now just small ones they have the eds too diagnosed at birth even my 2 boys have that my children don't live with me. Anymore because of the problems I have with disability but my perants don't want to do anything about there pain and exhaustion refused to go to gp with them in lost for myself and my little ones I honestly don't know what to do for the best, on the positive side of things my physio has referred me to get splints for hips both sides knees both sides and any thing other that will be of great help to support my joints and help with the OA and EDS and Weak muscles from so long bedbound that they wasted away and not able to build up without proper suppots to help stablise me . Any help with anything I have put gratefully received. Many thanks
dottyduck
- 15-Aug-15 @ 1:42 AM
@ez- I'm afraid I couldn't really comment on this as we can't give medical advice. You would really have to see your GP to ask these questions.
FibromyalgiaSyndrome
- 7-May-15 @ 2:25 PM
Underhill I would love to know how you cope with fibromyalgia and the jhs. I have been diagnosed with jhs and so has my 7 year old son, but I have also noticed that some of the symptoms as similar to the fibromyalgia. One doctor suggested I have the fibromyalgia as well as the jhs. I feel that my symptoms are so horrific sometimes. Do you think that having both is worse than just having one or the other. I would also like to know what help you are receiving as cbt has not helped as I have a positive outlook already but the meds are making me gain weight, which I believe simply worsens the jhs by putting extra strain on the joints, so I have reduced my meds but is making my day at worse totally unbarable.
@davidhdixie - I am very sorry to hear this. There are a few support groups which may be able to help via the NHS link
here
. It sounds as though you really need a visit to your GP in order to try and get some help for the depression which may be a repercussion of suffering from your illness.
FibromyalgiaSyndrome
- 11-Mar-15 @ 11:09 AM
i have been suffering from fibremyalgia for a year now. i am in constant pain. the life i had before and now are miles apart. i cant use my arms, my legs are always sore. touching any part of my body causes me pain. i cant exercise/ i have a constant headache, im always tired. they are stopping my D.L.A. i wont be able to get out at all now. i have other medical problems that limit my life. i have only turned 52 years old. i dont think i can take much more. i have no quality of life.
davidhdixie
- 9-Mar-15 @ 1:42 PM
@Swift - I'm sorry to hear you are suffering. I have included a link via the NHS which has listings page of where/how you can get help. It includes support groups, literature and forums. Link
here
. I hope this helps.
FibromyalgiaSyndrome
- 11-Feb-15 @ 10:33 AM
I have had symptoms here and there since High School. But only a year ago did it really become a daily thing. About 1yr ago is when we moved here. Prior to that, we were homeless for 2 years. I think the "trigger" was the homelessness. But then again in High School I was battling severe mental problems. I could not afford housing on my 700 a month disability. I also support someone else and have a service dog. Who was originally to help with my PTSD but now I need so much more. I found out my aunt and her daughter also have fibro and milk allergies so I'm going to be looking into those. I also have not had great experience with doctors.. But that also comes with the mental health stigma. Pretty much as soon as you say "I have PTSD" or anything like that they decide oh.. Must be a mental thing. And tend to blow you off. Besides telling me I need to be on Psych meds.. Which have only ever worsened my mental conditions. I have been med free over 3yrs and haven't needed the ER every month like I used to. Anyway.. I was looking to see if this fibro was hereditary. I was told my aunt and her daughter drink something called Jamaica. That and taking milk out of their diets I was told reduced their pain by 80%. Not sure about the other symptoms though. I am still concerned about the other symptoms Such as stiff joints, memory problems, dry eye bouts, vision changes, dizziness and balance, etc. Seems like everyone just thinks it's JUST pain when it is SO MUCH MORE.
Swift
- 10-Feb-15 @ 4:52 PM
Hi, just been diagnosed with FM. I work full time but feel exhausted, stressed, in pain, tired etc., most of the time. Is there any way that I could carry on working and still make a claim for benefits to help?
Janlondon
- 8-Oct-14 @ 9:38 PM
Hi All After having spine operations in 1999 and in 2007 was diagnosed with Fybro in 2009. This was by a doctor at the hospital, her test was to press on my ribs and saying "does that hurt", went back to my doctors and he just laughed at me when he said I had Fybro he obviously didn't think it was a genuine illness then. So it was pain killers after months of pain I worked it out for myself, it isa fine balance of keeping going and resting, too much of either is BAD. As for those of you trying for DLA you must put down your WORST TIMES like when it hurts to walk even to the bathroom or when your joints ache that much you struggle getting dressed, I struggle turning over in bed at times and have to wake my husband to help me, god bless him. It's no good saying well at times i'm O.K or I manage this some days. GIVE THE WORST DAYS YOU HAVE. This is not cheating this is want they want to hear. I work and have had time off recently 2 weeks with an attack. I get the lowest rate of DLA which helps me to get someone to help me clean my bathroom n kitchen once a month. NOT LAZY can't bend and reach like I once did LOL. Hope this helps someone out there. CAZZA
CAZZA
- 29-Jun-14 @ 12:09 PM
Good article. I've had fybro for many years but been diagnosed for four. It's so difficult to find a GP that's sympathetic to fybromyalgia but this is the key to ones care. Luckily I found one four years ago but still can't believe how much pain this condition causes. Also I'm so cross that my whole life has been ruined by fybro.
Sal
- 13-May-14 @ 12:09 AM
After many tests and investigations was diagnosed with FM in July 2009 by a Rheumatology Consultant. I suffer the pain and chronic fatigue. I have been receiving lowest rate of DLA for about 2 years and now DWP have decided not giving it me any more. I now also have type 2 Diabetes and suffer frequent episodes of gout also undergone operations for carpal & corbial tunnel syndromes twice both left & right and still under consultant. Now feel completel useless and let down. Always worked hard and paid taxes until all this happened but it counts for nothing. Just don't know where to go from here. Very depressed and frustrated..
petunia
- 8-Oct-12 @ 11:31 PM
If any of you are struggling with benefits, the first thing you need to do is find a sympathetic doctor. I have suffered for years but was diagnosed just a year ago with FM on top of a hearing and balance disorder. My GP has been brilliant, always willing to try new treatments, has written me countless letters for benefits and housing and even listens to me when I have ideas found through forums like this one. I had a blood test for vitamin D defficiency which is apparently common in FM sufferers and will cause the aches and pains to get worse. I would love him to perscribe a fortnight holiday somewhere hot, but I guess I will just take the suppliments if needed! :)
SparkyMark
- 21-Jan-12 @ 9:53 PM
My doctors have made me believe for years that it was all in my head. Every night wakened up constantly by the pains between my shoulders,my knees stiff a slight tap to my wrists and its like someones hit me on it with a brick. Every point in my body has just slipped away and doctors have made it worse with their attitude. I`m not making an excuse for my actions but I turned to my own form of medication just taking enough to get me through the day.It was heroin.I stayed on it 5 months until I got help but by that time I`d got pregnant and tryed to take my own life because I felt alone and everyone around me just had been telling me I was lazy and thought I was playing on it to get medication. 4 years later the doctor announces that I have fybro. 3years on from that I now have 4 children and my life is a constant struggle I need constant help day and night but I hardly go to doctors and they never write me a report for dla. I have no respect at all for gp`s as they`ve let me down all my life and now the look at me as a junkie and I`m a responsible mother really who self medicated until she got help. The only doctor in my life who`s helped me and got others to listen was my addictions doctor and I`m sooooooo grateful to him for that.
I have fibromyalgia and osteoarthritis and have been told I have been put in a work focus group and if I dont go my benefits will stop,i want to claim disability as I have severe pain also restless leg syndrome but I dont want to be turned down so can someone help please
angel
- 1-Jan-12 @ 10:27 PM
i have chronic fibromyalgia, and its stripped me of my whole lifereally,i am down all the time and irritable and it has took at least 3 years to diagnose,i am now claiming d.l.a amd mobility,and am having so many problems with dwp,always sending letters and professionals so assess me even knowing that there is no cure,it is so strenuous,I have always worked even after giving birth twice,i have worked full time andnow this illness has got me i feel like im cheating the system,because of the hassle im getting,I WOULD MUCH RATHER BE HEALTHY AND WORK than be suffering like this.
jewel
- 23-Oct-11 @ 10:25 PM
Thank God for your site I was told I had fms 4yrs ago, my Gp was brilliant doing all the tests refering me to a to pain consultant who prescibed meds, but then I was left trying to understand it. Your site has helped me do this and realise other syptoms I am experiencing are all connected to fibro and I'm not going mad. Thank you so much
annie
- 1-Oct-11 @ 4:01 PM
For me personally, my father has never been diagnosed with fibromyalgia, but he has all the classic symptoms. But because he also has degenerative joint disease I think it's been overlooked. Both my Grandmother's had what was then called rheumatism. I have two girl cousins on my Mother's side who have it. And now my one cousins 12 year old daughter was just diagnosed. I was the first to be diagnosed, and now it's popping up everywhere. It is a mystery still to me.
pamama
- 20-Aug-11 @ 11:54 PM
Interesting article. I've fibromyalgia and ME/CFS. I was born with joint hypermobility and have been in and out of hospital since i was a baby. After my first pregnancy, i was in pain and tired more, but carried on as normal. 9 yrs later i gave birth to my 2nd child, that was very traumatic, 2 yrs later i was diagnosed with fibro. Few years later i had a bodged lumbar puncture, 3 months later was diagnosed with ME/CFS. My 1st daughter had pains in secondary school, years later, diagnosed with Fibro, she is now 19yrs, my 10yr old has fibro and ME/CFS. My mother has severe arthritis, my eldest sister has arthritis, but there symptoms are literally the same as mine, but i dont think they want to be diagnosed. I believe its because our mitrochondia is damaged and we are passing it down. Be great to be able to break the link my my girls in time will have healthy children themselves.
deegill
- 1-Apr-11 @ 1:57 AM