Testicular Problems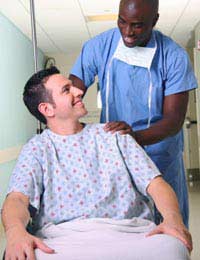 One of the symptoms that men associate with the condition Fibromyalgia is pain in and around the area of their testicles. It is a problem that many men feel uncomfortable discussing but is one that should be discussed and most certainly explored with their doctor.
Testicular Problems
Many of the men who suffer from Fibromyalgia - and there are probably more of them than are actually documented - suffer from aches and pains in and around their testicles. This can sometimes be mistaken for other testicular problems and with this in mind it is worth while examining the sort of problems that can occur in this area of the male anatomy and how best to deal with them.
For all men over the age of twenty-five it is worth while examining your testicles once a month. This is useful in that it can help to identify any tell-tale lumps that may be attributed to other conditions affecting the testes.
Testicular Cancer
This is the most common type of cancer in males aged between fifteen and thirty-five; and again this is a problem that in many cases goes unchecked because many men do not examine themselves closely enough.
It takes only a few minutes for a male to examine his testicles to ensure that there are no lumps and any lumps that he may find he should make an appointment to discuss with his doctor as soon as is possible.
Scrotal Hernia
A scrotal hernia comes about when a part of the intestine manages to work its way down through the wall of the intestine and into the sack that surrounds the scrotum. This can be extremely painful but not life threatening although surgery is required to put things right.
Torsions
This is a very painful problem that can also become more severe if not dealt with. Torsion is when a testicle becomes twisted and inadvertently cuts off the very blood supply that keeps it going. This is, as we have already said, an extremely painful problem and one that requires emergency surgery to save the testicle and also - in some instances - to secure the testicles to the scrotal wall to ensure the problem cannot reoccur.
Hydrocele
This is a problem that comes about when the scrotal sack fills with fluid as a result of some infection or possibly a sexually transmitted disease (STD). It can also occur if there is a tumour in or around the testicles. A course of antibiotics will normally see off the infection but in some cases your doctor may need to drain excess fluid from the testicles.
The aforementioned conditions are something that many men can encounter at some time in their lives however if they are suffering from Fibromyalgia then they may have to endure considerable pain in their testicles and scrotal area simply as a symptom of the condition itself.
It is worth however always worth taking the time to examine yourself to ensure that there are no lumps or bumps or foreign objects in that area. It is also worth while consulting with your GP if you are unsure as to the pain you may feel emanating from the scrotal area.
As always many men will scoff at this idea, disguising their own embarrassment, but it is worth reiterating that a few moments embarrassment in the presence of your doctor is preferable to more considerable pain or discomfort if there is an underlying cause.
You might also like...