Pelvic Discomfort with Fibromyalgia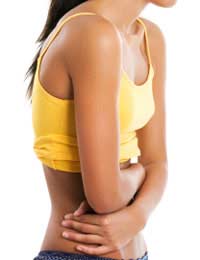 There are many symptoms associated with Fibromyalgia and each individual can exhibit a variety of these symptoms which vary from case to case. One such symptom which is common, especially in women, is pelvic discomfort. Here we look at the causes and what can be done to help.
Pelvic Discomfort
In women the pelvic area is wider than in men and this is to support child birth; however because of this wider area around and in the pelvis there is more chance that a woman suffering from Fibromyalgia will experience discomfort and pain in that area.
Most pelvic discomfort will be experienced whilst bending, walking or sitting down and many sufferers of Fibromyalgia will find it difficult to get comfortable whilst carrying out any of the aforementioned tasks.
It is important to understand that Fibromyalgia does not discriminate when it comes to causing chronic pain throughout the body and any area is vulnerable. However the pelvic area, the small of the back, the arms and the legs are those which the condition seems to attack most fervently.
Pelvic discomfort as a result of Fibromyalgia can lead to problems with the following:
Urinating
Child birth
Maintaining a seated position
Making Love
Walking long distances
This discomfort may be the result of some inflammation around the area of the bladder or water retention, both of which are common in women suffering from Fibromyalgia.
Dealing with Pelvic Discomfort
It would be easy to say that there is a way in which to deal with pelvic discomfort but unfortunately this is not the case. This is no more evident in the hundreds of thousands of cases of Fibromyalgia sufferers who struggle daily to find any sort of relief from their condition.
The condition of Fibromyalgia is such that it can change from day to day and where one day the problems experienced where in the arms or legs, the next they can have moved to the neck and shoulders, the back and down into the pelvis area.
If you are experiencing persistent problems with your pelvic area it is advisable to seek medical advice as soon as you can. Visit your doctor and explain the problems to them, mindful of course, to give as much information as you can about the problem.
If they are already aware of your problems with Fibromyalgia then it would be easy for them to put pelvic discomfort down to simply being another of the condition's side effects but you should ask them to look into the problem further.
Fibromyalgia - just like M.E - has a number of overlapping conditions which flare-up without warning. But if the problem is one that persist ask your doctor if he or she will carry out an examination to ensure there is nothing else happening.
Some women for example may be experiencing the symptoms of an Ectopic pregnancy which can be very dangerous if not checked.
Treating Pelvic Discomfort
Your doctor may in the short term suggest a course of anti-inflammatory drugs to try and reduce any muscle swelling in and around the walls of the pelvis. Alternatively they may suggest these anti-inflammatory drugs as a means of reducing the swelling that may have been left behind from a bladder infection.
Your doctor will only prescribe these treatments however once he or she has established that inflammation is the key cause. Neither will he or she advise on a course of pain relief until they are sure what the nature of the problem is.
In some instances the condition may occur simply as an offshoot of Fibromyalgia which in itself is difficult to treat given the fact that the condition is very random in how it attacks the body.
Further Information
If you are experiencing pelvic discomfort it is worth trying to eliminate any causes you can think of. Remember to give your doctor as much information as you can. If for example you have had a fall then remember to inform them of this as you may well be suffering from internal bruising or a broken or fractured bone.
Any information you can provide your doctor with will help them make an informed and accurate diagnosis.
You might also like...