Fibrocystic Problems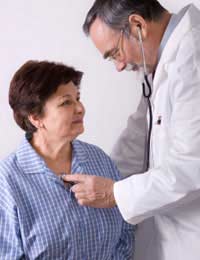 Fibrocystic Disease is not actually a disease but more of a condition that women of child bearing age can suffer from. The condition's cause is not known but it is thought that there are links between ovarian hormone levels and the condition itself. It is important to note however that the condition is not particularly common in women under the age of twenty-five.
The problem is typified by the appearance of lumps in the woman's breasts which are benign and not likely to cause any great threat to mortality. However these lumps can become uncomfortable depending on their size and they can sometimes often cause the breast to discharge.
Fibroadenomas
The lumps that form in the woman's breast are called Fibroadenomas and are not necessarily always in need of surgical removal. Most of these Fibroadenomas will decrease in size and eventually disappear however in a small number of cases surgery may be required to remove them if they do not decrease in size.
These Fibroadenomas are not always stationary and can move around underneath the skin; if consulting your doctor he or she may order an ultrasound or biopsy (called a needle aspiration) to remove tissue from the lumps to test for any cancerous cells. This however is nothing to worry about and is common practice.
Changes in Hormone Levels
As you may know a female's hormone levels change during her menstrual cycle each month and the levels of oestrogen and progesterone rise and fall during that time. These changes in hormones cause blood vessels to increase in size along with milk glands. In some instances after the menstrual cycle has finished these enlarged glands and vessels do not regain their original size which is how lumps can form.
What Should I Do if I Find a Lump?
It is important that if you find a lump in your breast that you make an appointment with your doctor as soon as possible. This again is not intended to frighten but is simply being cautious. Most lumps are not cancerous but it is still important to have checks carried out by your doctor.
You should examine yourself regularly to ensure that these lumps are not growing in size and likewise that no other lumps have formed. Again it is important to remember to carry out this practice regularly and if you have already suffered from the problem and it has been resolved do not be frightened to go back to your doctor if it reoccurs.
The best way in which to examine yourself is to stand in front of a mirror and raise your arm up so that your hand is touching your head. Using your other hand gently cup the underside of your breast, you should be able to feel any unusual lumps whilst carrying out this procedure.
Further Information
As we have already mentioned it is not always the case that such lumps are cancerous and indeed the number that are is small in comparison to the number that aren't. However that does not mean you should not take the finding of any lump in those areas seriously. If you find a lump make an appointment with your doctor immediately.
He or she may ask if there has been history of breast cancer in your family; do not be alarmed by this question, it is simply routine and although it can sound foreboding it is simply asked as a matter of procedure.
Remember also to inform your doctor of any changes in your menstrual cycle as these may be important and be a clear indication as to why these Fibroadenomas have occurred in the first place.
You might also like...