Periods, Period Pain and Fibromyalgia Syndrome
By: Suzanne Elvidge BSc (hons), MSc - Updated: 26 Apr 2018
|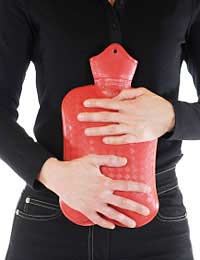 Fibromyalgia syndrome causes pain, a heightened sensitivity to touch, tiredness, problems with sleep and muscle stiffness, and is more common in women than men. The cause of fibromyalgia syndrome is not clear, but some theories link it with hormone imbalances, especially imbalances in sex hormones, though the scientific evidence isn't clear. This could explain why many women with fibromyalgia syndrome see changes and disruptions in their menstrual cycles (periods). Women may also see fluctuations in their fibromyalgia syndrome symptoms at the different stages of their menstrual cycle, and around pregnancy and the menopause.
Period Pain and Fibromyalgia Syndrome
Between 70 and 90% of women with fibromyalgia syndrome suffer from painful periods, also known as dysmenorrhoea. This may be more common simply because people with fibromyalgia syndrome are more sensitive to pain. Dysmenorrhoea can last from a few hours to a week each month, and can also cause headaches, dizziness and nausea. Dysmenorrhoea can make the tiredness often seen with fibromyalgia syndrome seem worse.
The treatment of dysmenorrhoea depends on the cause, but many women find that it can be controlled or at least helped with over-the-counter non-steroidal anti-inflammatory drugs (NSAIDs) such as ibuprofen, or with anti-prostaglandins.
Periods and Fibromyalgia Syndrome
Many women with fibromyalgia syndrome say that the pattern of their periods has changed. In a study comparing a group of women with fibromyalgia syndrome with a group without the disease, women with fibromyalgia syndrome were more likely to have irregular periods, no periods (amenorrhea), and spotting or bleeding between periods. They were also more likely to have polycystic ovarian syndrome, abnormal hairiness (hirsuitism) and ovarian cysts.
Other symptoms associated with periods reported by women with fibromyalgia syndrome include long periods with heavy bleeding and blood clots. Some women may have periods that are more frequent. Women with fibromyalgia syndrome may also find that their premenstrual syndrome gets worse – see 'Pre-Menstrual Tension and Fibromyalgia Syndrome'.
Women with fibromyalgia syndrome are more likely to start their periods later than women without the disorder, and they are also more likely to have problems with their fertility.
Fibromyalgia Syndrome Around Periods
Some women find that their fibromyalgia syndrome gets worse during the premenstrual period (the week or fortnight before the period). In a study in Norway, 72% of women with fibromyalgia syndrome said that their fibromyalgia syndrome symptoms were at their worst the week or two before their periods. Another study showed that about 50% of women had more pain and tiredness around their periods. Some women also notice a flare up in their fibromyalgia syndrome symptoms around the time of ovulation (egg release), half way through their cycle.
Women may see a flare-up in their fibromyalgia syndrome symptoms during pregnancy and for a few months after birth, which has been confirmed in studies in the US and Norway. However, some women d find that their fibromyalgia syndrome symptoms reduce or disappear while they are pregnant, especially in the first two trimesters). Menopause can also cause a flare-up in fibromyalgia syndrome symptoms.
Fibromyalgia Syndrome is sponsored by Purely Energy, who have funded a lot of our content. If you are looking for a low cost business energy supplier, take a look at their website.
FIBROMYALGIA SYNDROME IS FOR SALE.
This website is for sale [more info].
You might also like...
I had my child 19 years ago and had a horrendous time the 10 days before my period are the worst time of the month for my fibromyalgia symptoms I would like to know if a hysterectomy would help I'm 44 I definitely don't want any more children and if it would lessen my fibromyalgia symptoms it's definately something I'd consider.
Lou
- 26-Apr-18 @ 1:57 PM
This was very helpful in explain a lot about my life it all make sense now
niaj
- 19-Dec-15 @ 3:39 AM