A Teenager's Experience of Fibromyalgia: A Case Study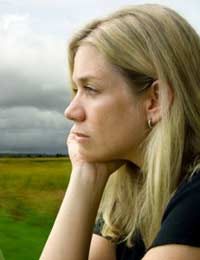 Hannah tells us what is it like to live with fibromyalgia.
"When I have explained to very close friends exactly what I feel like, they say having fibromyalgia must be like doing three hours of very vigorous aerobics without warming up or cooling down, standing in the cold for half an hour and then waking up next morning with every muscle hurting and aching and being so stiff you can hardly be bothered to get out of bed. That's what I feel like most days and often my brain just won't work. We call this 'fibro fog' as it is like living in a fog.
My symptoms started when I was about 15. When I started my second GCSE year I was hurting all over every day. My dad had just lost his job and things were a bit tight and he and mum were arguing quite a lot. I think the emotional upset didn't help – I now know that emotional traumas are one of the triggers that make the symptoms of fibromyalgia much worse."
Eventual Diagnosis
"The next year was really awful. I found it increasingly difficult to concentrate on my schoolwork and my marks went from above average to well below. My parents had several meetings with my teachers, who just assumed I was being lazy. The truth was, it was so hard to get up and get dressed and ready for school, I was exhausted long before I ever got there.
One day I fainted during PE and ended up in the sick bay with the school nurse. I started to cry and told her all about I was feeling and how my whole body hurt all the time. She was the first person who really listened. She drove me home later that day and came in to see mum.
We ended up at the GP's surgery the next day. I thought he would just laugh and say it was all in my mind but instead he asked loads of different questions and then did a special examination to see if I felt pain at different points on my body. He tested 18 places and the pain was intense on 16 of them. That's when I first heard the word fibromyalgia."
Leaving School
"After I had been to see a specialist I was given a drug to help my sleep quality. Apparently, one of the reasons I was tired all the time is that my deep, most restful sleep that helps the body repair and the immune system to work well, is interrupted by periods of wakefulness. Because I was getting only light and fitful sleep I was really tired and couldn't concentrate on anything. I was given amitriptyline, which also helped a bit with the muscle pain I had, particularly in my back and shoulders. This helped me to get through my GCSEs but sitting down and concentrating on studying was still very difficult, so I decided not to carry on at school after 16."
Finding A Job
"Every day with fibromyalgia is different – there are some better days but the pain is never really gone. This unpredictability and not knowing how much I can do each day has made it very difficult to find a suitable job.
It's eight years since I left school and I have been really lucky to get a position as a school caretaker at a village school about 4 miles from where mum and dad still live. It comes with a small flat, rent-free and the work suits me very well. I have to unlock and lock the gates and doors at the start and end of school, do some light cleaning, check when things need maintenance and then just be on the premises for security. I can cope with it and the school is very understanding if I do have a very bad day."
Looking To The Future
"I know that I will have fibromyalgia for the rest of my life and I know that I can manage to live with it. Its hard to drive yourself to do stretching and regular exercise – I like swimming best – but I feel so much better when I keep it up. I also have a massage once a week that mum and dad pay for and I owe a lot to them for their support since I was diagnosed.
I have been going out with Andrew for 3 years now and we got engaged at Easter and plan to marry next June. I had to think long and hard about this but Andrew won't take no for an answer and we plan to try and have children. Just because I have fibromyalgia, it doesn't mean I can't live my life."
You might also like...