Day in the Life of a Fibromyalgia Carer
By: Suzanne Elvidge BSc (hons), MSc - Updated: 29 Mar 2021
|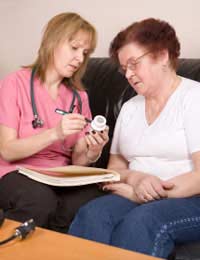 We talked to Pete, a fibromyalgia carer, about what his job entails and what the daily rountine is for a fibromyalgia carer.
6 am
Just up and checking my email before the day starts for everyone else. It's good to have a moment to myself – though it's early, and I could probably do with the sleep, the house is peaceful and quiet, and it's just me, the cat and the laptop.
Jane, my wife, has fibromyalgia syndrome, and spends a lot of time tired and in pain, as well as having all those other symptoms that seem to go with this horrible illness. It all started after a bad car accident – though her bones healed, the pain seemed to trigger off something that took years to be diagnosed. Now we have found a sympathetic doctor, who has got her on a bunch of medications and having occupational and physical therapy, things are getting better but it's slow, and I have ended up as her carer, at least when she has a relapse.
Jane had to give up work because of the pain, and because of what she calls 'fibrofog' – a vague fuzzy dizzy feeling that stops her being able to think straight. So things are tight financially, but she hopes that she may be able to work from home, at least part time, perhaps sometime next year.
8.00 am
Everyone fed and kids on the school bus – life is so much easier now it stops just outside the door, and I don't have to drop them off it town. It gives me enough time to make sure that Jane is okay before I run out of the door to work. My boss has been reasonably flexible with my working hours, but he doesn't really understand when I have to dash out because the kids are ill and Jane isn't well enough to cope on her own. It would be different if fibromyalgia syndrome was a visible illness, but Jane looks fine, so sometimes I think that people don't believe us. I have to admit, it took me a while to understand that this was real, not just something psychological.
It's not done my health a lot of good – I'm stressed and tired all the time, and some days my back just screams. The house looks shabby and grubby, but I figure if at least we all have clean clothes and decent food then the state of the carpet doesn't really matter…
6.30 pm
Home at last! Some days, Jane is well enough to be up and about when the kids get home at about half-past four, and she will get supper ready, but other days, she's just too sore and exhausted, and my sister helps out. She's been such an angel – I'm not sure that I would have coped without her, and it means that at last I've forgiven her for what she did to Edward Bear when I was five!
She's had a good day today, and feels well enough to come out to the local fibromyalgia syndrome support group tonight. We've only just heard about it, and hopefully it might do us both good. Our social life went rather downhill since Jane got ill – it's hard to arrange things when she can't predict how she feels, and I'm often just too exhausted to do anything other than fall asleep in front of the nine o clock news.
7 pm
Off to the meeting. I feel really rather nervous!
9 pm
Just got home from going to the group – Jane's gone to bed but I'm still buzzing! It was an amazing relief to talk to people and not have to explain anything – they just understood. I met a guy called John, who is also a carer – his daughter has fibromyalgia syndrome – and he told me about the special sub-group for carers. He said that it is a good source for hints and tips, and a great place to vent any frustration too, when I feel like I'm dad, mum, carer and breadwinner all rolled into one. I feel that I can't talk to Jane about how hard it is, and I don't want my friends and family to think I don't care, or I don't love Jane any more. I think this is really going to help. I really wish we had found this before!
You might also like...