Temporomandiblar Joint Syndrome (TMJ)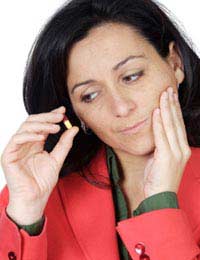 Temporomandiblar Joint Syndrome (TMJ) is a condition that can affect sufferers of Fibromyalgia and can be considered to be an overlapping condition, sometimes coming and going. It is a problem that attacks the facial muscles and causes pain in the lower jaw which can then spread down into the sufferers neck and shoulders.
Symptoms of Temporomandiblar Joint Syndrome (TMJ)
The symptoms of Temporomandiblar Joint Syndrome (TMJ) can vary from individual to individual but usually there are a defined series of symptoms which may appear altogether or over a period of time in clusters. These symptoms include :
Pains in the neck and shoulders
Difficulty speaking or chewing
Ringing in the ears (Tinnitus)
Muscle Spasm
Temporary Loss of Hearing
Facial Swelling
Headaches
Nausea
Again it is worth pointing out that sufferers can experience some or all of these symptoms in clusters when the problem appears and in extreme cases they may experience most of the conditions.
In addition to these symptoms the sufferer may experience a feeling of the jaw dislocating and the sound and feeling of the jaw bone grating against other bone. They may also have difficulty eating and have to take soups or pureed food until the problem is resolved.
Treating Temporomandiblar Joint Syndrome (TMJ)
The condition itself may only last up to a fortnight but it is important to have it checked by your doctor as soon as signs of it begin to emerge. You may first notice the pain in your jaw followed by the sound of bone clicking against bone. But as soon as you begin to experience any discomfort you should visit your doctor.
Many people confuse the condition with an ear infection or toothache but you should visit your doctor first for a diagnosis. He or she will be able to tell you with only a few tests and an examination if you are suffering from Temporomandiblar Joint Syndrome (TMJ).
If you are diagnosed as suffering from Temporomandiblar Joint Syndrome (TMJ) the first thing your doctor will do is prescribe a course of anti-inflammatory drugs to try and reduce any swelling that may occur. You should note that although in the first stages swelling may not be visible it may be occurring in and around the soft tissue of the jaw. This in itself can lead to toothache if not treated as the tissue pushes against the roots of the teeth embedded in the gums.
Not everyone develops Temporomandiblar Joint Syndrome (TMJ) in its fullest form and they experience - as we have already mentioned - a number of symptoms but not all of them. If this is the case your doctor will prescribe what he or she thinks is the best course of medicine to help combat the problem.
Ordinary pain relief medication, such as that which can be bought over the counter, can be used to help combat the issue of pain but you may need to have a course of anti-inflammatory drugs to help relief any infection.
As well as this you may need to take to a diet of mashed foods or soups, or easily digestible foods until such times as your jaw is able to cope with the task of chewing again. Your doctor may also suggest gentle jaw exercises for a few minutes a day until the problem has faded.
Warm flannels or a lukewarm water bottle may also help to relief the pain of the jaw but this should only be used sparingly.
Further Information
If you have suffered from this problem - or belief yourself to be suffering from it - you should contact your doctor as soon as you can and make an appointment to be examined. It is best to consult with your doctor rather than a dentist as the symptoms can mirror those of a toothache. Your doctor may ask you a series of questions relating to how you chew and eat foods, what kind of work you do and if you have had any kind of accident or trauma to your face.
You should answer all questions honestly and in as much detail as you can in order for your doctor to make the correct diagnosis.
You might also like...