Substance P and the Central Nervous System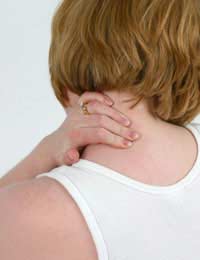 Substance P is a neurotransmitter which sends signals from the brain to various parts of the body in the form of pain. This neurotransmitter – which is to be found as a protein in both the brain and spinal cord – is often affiliated with the feeling of pain in such inflammatory conditions as Fibromyalgia and M.E (Myalgic Encephalomyelitis).
It is often this protein – in the form of a neurotransmitter – that allows the brain to register pain in areas of the body known as 'trigger points' which are synonymous with pain in Fibromyalgia and M.E (Myalgic Encephalomyelitis) sufferers.
Trigger Points
Any individual suffering from either Fibromyalgia or M.E (Myalgic Encephalomyelitis) can vouch for the amount of pain they feel without anything causing it. By this we mean simply feeling pain in areas of the body without their being any physical or visual signs of bruising, cuts or any other trauma. This is how these chronic conditions manifest themselves.
A Fibromyalgia sufferer will have roughly eighteen 'trigger points' around their body ranging from the shoulders, the neck, the knees, the elbows, the pelvis right down into the lower leg and feet. Each case of Fibromyalgia of course is different as the chronic nature of the condition but these 'trigger points' are often the same.
In order for an individual to be diagnosed with Fibromyalgia they must exhibit signs of pain in these pressure areas – or 'trigger points' – for more than three months with a minimum of eleven of them causing pain. Indeed these 'trigger points' are so susceptible that even the slightest touch or applied pressure can cause further pain; and it can even cause the sufferer to feel as though their skin has been burned.
Inhibiting Substance P
There are medications available on prescription which are referred to as 'Substance P Inhibitors': these inhibitors do exactly that, they inhibit – or prevent – the Substance P from reaching those trigger points of the body and transmitting the signals back through the nervous system – along the spinal cord – to the brain.
In a way these are pain killers just as those medications which are available over the counter but in smaller doses.
Of course it is not just pain killers that inhibit Substance P; anti-depressants and muscle relaxants do as well and these are often prescribed to individuals who have been diagnosed with Fibromyalgia or M.E (Myalgic Encephalomyelitis) as a means of not only combating pain but also combating stress, anxiety and depression – three things which are also interwoven with the transmission of pain signals via Substance P.
There are also creams which can be used as rubs in the instances of rheumatoid pain or arthritic pain – such creams are massaged into the affected area and left soak into the skin. The effects of these creams are similar to anaesthetics in that they help relieve the pain affected areas by dampening down the Substance P that is sending the signals from the inflamed areas.
Consulting Your Doctor
We should stress as always that before you apply any creams or over the counter medications you consult with your doctor beforehand. He or she will be able to over advice as to whether such medications can offer relief and may also be able to offer up alternatives.
You might also like...
I have seen a rhumatologist who has said i have fibromyalgia He seemed to think it could of been triggered by a breast cancer diagnoses 3 years ago.I have had no information regarding this condition all that happend is my gp has put me on serotin which seem to help with the pins and needles and my sleep has improved.but the burning senstions i get in my lower body when standing from sitting is really painful and my memory is really bad . I failed the memory test at my gps and i am waiting for a brain scan.which is really unnerving? An tips from anyone . I find i cangoto work , but can do littlewhen i get home i seem to have to sit down after i have done something ? isall this normal?
budcat
- 14-Oct-17 @ 2:13 PM
I have had fybromyalgia for at least 13 years!, i have learned to live with the pain most days, but it has settled in my left hip, arm, shoulder, wrist and fingers and has ben present for 6 months! I have also recently been suffering with numbness in my entire right leg, ankle, foot and toes!
laine
- 18-May-17 @ 1:34 PM