Fibromyalgia Syndrome and Lupus
By: Suzanne Elvidge BSc (hons), MSc - Updated: 23 Oct 2012
|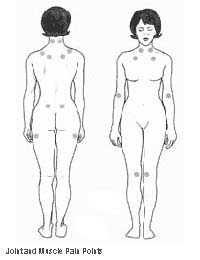 Fibromyalgia syndrome and lupus share some similar symptoms, and the two disorders may be mistaken for each other in diagnosis. However, they have very different causes and treatments.
What is Lupus?
Systemic lupus erythematosus, often known as SLE or lupus, is an autoimmune disease that causes inflammation throughout the body. San autoimmune disease happens when the body's immune system attacks itself.
Like fibromyalgia syndrome, lupus is much more common in women than in men.
Symptoms of Lupus
Some of the symptoms of lupus are very similar to those of fibromyalgia syndrome, including:
fever
tiredness
joint and muscle pain
headache
poor sleep
depression mood disorders
cognitive abilities
rash
sensitivity to sunlight.
The additional symptoms of lupus that help doctors differentiate it from fibromyalgia syndrome include:
arthritis with joint swelling
fever
alopecia (hair loss)
mouth, nasal and vaginal ulcers
anaemia and iron deficiency
blood disorders
changes in blood tests including increased sedimentation rate and fall in white count
pericarditis, myocarditis, and endocarditis (heart inflammation)
lung inflammation
headache.
In both fibromyalgia syndrome and lupus, symptoms can flare up and then recede.
Fibromyalgia syndrome does not cause widespread inflammation, which is seen in lupus.
Misdiagnosis of Lupus
Because of the similarity in the symptoms and the occurrence of flare ups, and because some doctors are still not that familiar with fibromyalgia syndrome or do not believe that it is a valid diagnosis, many people with fibromyalgia syndrome are misdiagnosed as having lupus. In a study from the University of Alabama, 26% of people diagnosed with lupus actually had fibromyalgia syndrome.
The problem with misdiagnosis is that, while the symptoms of the two disorders may be similar, the causes are quite different, and the treatments are also different. Treatments for one disorder may not help the other, and in fact may make some of the symptoms worse.
Fibromyalgia Syndrome and Lupus
Around 10-30% of people with lupus develop fibromyalgia syndrome, though some studies suggest that this figure may be rather high. A study in the USA published in 1994 suggested that patients with both lupus and fibromyalgia syndrome were more likely to have pain, including muscle pain, sleep problems, bloating, period pain and light and noise sensitivity than people with lupus alone. Patients with both disorders were more likely to have problems with daily activities and were less likely to have a job.
The pain, sleep problems and depression that lupus causes may make people more likely to develop fibromyalgia syndrome. It is rare for people with fibromyalgia syndrome to develop lupus.
Treatment of Lupus
Lupus is incurable but treatable, and its treatment depends on the symptoms. The inflammatory symptoms and pain can be treated with over-the-counter anti-inflammatory drugs such as ibuprofen. If these are not sufficient, doctors can prescribe stronger painkillers.
The symptoms of arthritis (and the underlying worsening of the joint damage) may be treated using disease-modifying anti-rheumatic drugs (DMARDs), including antimalarial drugs and immunosuppressants.
Corticosteroids and immunosuppressants can be used to prevent or reduce flares, and corticosteroids can also treat the symptoms of lupus flares.
You might also like...