What Causes Fibromyalgia Syndrome?
By: Suzanne Elvidge BSc (hons), MSc - Updated: 2 Mar 2018
|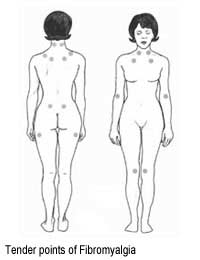 Symptoms of fibromyalgia syndrome (see 'What is Fibromyalgia?') include fatigue, with musculoskeletal pain (described as aching or throbbing) and tenderness throughout the body. Other symptoms can include disturbed sleep, stiffness, especially in the morning, migraines, depression, anxiety, stress, acid reflux and irritable bowel syndrome.
Fibromyalgia syndrome can be described as primary or secondary (as a result of another condition), and the causes of primary fibromyalgia syndrome (the most common form) are not clear. There are, however, many theories.
Triggers of Fibromyalgia
There appear to be a number of sets of circumstances that can trigger fibromyalgia syndrome – these are not the underlying cause of the disease, but set off the appearance of the symptoms.
A virus or other infectious agent, which may damage nerves, may trigger fibromyalgia syndrome and causes pain signals to be sent in error. Viruses that may be involved include Lyme's disease, human immunodeficiency virus (HIV, which causes AIDS), Coxsackie B virus and parvovirus B19. Researchers have seen persistent levels of enteroviruses in the muscle of some people with fibromyalgia syndrome, which are not there in healthy volunteers.
Injury and emotional stress both appear to be triggers for fibromyalgia syndrome. In some studies, 25-50% of people with fibromyalgia syndrome report an injury before development of the symptoms. Some physicians suspect exposure to certain drugs and chemicals.
Hormonal changes, for example the menopause, especially if it is early, or a hysterectomy, may also trigger the disorder.
Another disease such as rheumatoid arthritis may trigger fibromyalgia syndrome.
Genetics
Fibromyalgia syndrome seems to run in families – a study of twins confirmed that fibromyalgia syndrome appears to have a genetic background.
Brain Changes and Dysfunction
A number of people with fibromyalgia syndrome show changes in the structure of their brains, which seem to correlate with problems with long- and short-term memory.
A study of the hippocampus (a part of the brain that controls cognitive functions, sleep and pain) showed changes in its function in people with fibromyalgia syndrome.
Cytokines
Some scientists believe that many of the symptoms of fibromyalgia syndrome, especially those associated with sleep disturbance, may be caused by abnormal levels of cytokines. These are chemicals that carry signals between the cells of the immune system.
Neurotransmitters
In fibromyalgia syndrome, levels of different neurotransmitters (chemicals that carry messages between nerve cells) can be too high or too low. These include serotonin (involved in sleep, pain, temperature, appetite, sex drive and mood); norepinephrine (involved in memory and alertness); dopamine (involved in focus and motivation); substance P (help transmit pain messages); and endorphins (produced as a natural 'antidote' in response to pain and tiredness).
People with fibromyalgia syndrome may have increased levels of substance P and reduced levels of endorphins, which may explain the increased perception of pain. They also seem to have lower levels of serotonin, which could explain the symptoms of depression and anxiety.
Studies show that in fibromyalgia syndrome, there may be changes in the genes for some neurotransmitters, and these changes are also seen in chronic fatigue syndrome, irritable bowel syndrome and depression.
Vitamin D Deficiency
In studies of people with fibromyalgia syndrome, 83-93% had a vitamin D deficiency – however, many people have a vitamin D deficiency and don't have fibromyalgia syndrome, so it is unlikely to be a simple link.
Obesity
In a US study, around half of the people with fibromyalgia syndrome were obese, and a further 20% were overweight – however, it is not clear whether obesity is a cause, or is as a result of the disorder.
You might also like...
I got diagnosed with fibromyalgia in 2012 it's such a painful condition , I work part time as a carer which I'm struggling with I don't get any help from my manager and I even got a letter saying that if I had anymore time off this year I would have a disciplinary, which I thought was harsh as I've only had 7 days off since April last year , where do I stand I really don't know , also my eyes are deteriorating to as everything is so blurry and my eyes sting all the time , I'm on tramadol 150gabapentin 2600 and venlafaxin 150 a day and eye drops that I put in 6 time a day , do you think I may get help ?
Steph
- 2-Mar-18 @ 5:51 PM
I have been diagnosed with fibromyalgia, have Ankylosing spondylitisand a rare heart condition. I used to work full time but found it very difficult and my symptoms worsened towards the end. I am now unemployed but would like to work a couple of days a week. Can i claim a benefit to top up my earnings?
BB
- 10-Feb-18 @ 11:31 PM
I have been diagnosed with fibromyalgia, I also have a degenerative spine and oesteo arthuritus in both my knees, I've had operation on both my shoulders and I have also got tennis elbow in both arms and carpel tunnel in my right hand, I've tried physio,diet,light excercise, swimming,walking but nothing helps, I suffer badly in hot and cold weather, although I've worked all my life in healthcare I'm now finding it a struggle I've recently been made redundant and I am struggling to find a job in a different profession as I have only got qualifications in care.. can I get any help financially till I am able to get another job...I have also been diagnosed as having high cholesterol and I'm waiting to see a diabetic nurse
Mitch
- 19-Jul-17 @ 12:33 AM
Sasinat- Your Question:
I have Fybromyalgia and also suffer with hemaplegic migraine as well. It is slit worse in the autumn/wintertime and I often end up in hospital as the migraine imitates a stroke. Am I entitled up any benefits as I am unable to work or can you not claim with this condition ??
---
Our Response:
I am sorry to hear this. I can only suggest you access the Turn2Us link
here
which may help you to find whether you are eligible for any benefits.
FibromyalgiaSyndrome
- 10-Nov-15 @ 12:45 PM
I have Fybromyalgia and also suffer with hemaplegic migraine as well. It is slit worse in the autumn/wintertime and I often end up in hospital as the migraine imitates a stroke. Am I entitled up any benefits as I am unable to work or can you not claim with this condition ??
Sasinat
- 9-Nov-15 @ 5:53 PM
@Ellesbelles - sorry to hear you are suffering, but thanks for sharing this with us and including the things that make you feel better. If anyone has any advice on what helps you, please share as it is always helpful for other sufferers.
FibromyalgiaSyndrome
- 24-Oct-14 @ 10:21 AM
Hi youve probably been diagnosed with your symptoms now but I was diagnosed in February 2013 with Fibromyalgia.I erEpstein Barr virus back in 2000 and the Fibro flared up after that. It took all those years to diagnose me even though I suspected it was Fibro! It seems to be a lot better in the warmer spring and summer months, I can do a lot more and go on long walks with my dog but come autumn the pain gets really bad with cold damp weather. I describe it as having the flu (but worse) and without the head cold! I get terrible muscle spasms especially in my legs, painful hands and fingers (which are sometimes swollen) painful feet and toes, and the slightest touch can be agony! even a cat brushing past my legs has been painful! bright light and noise can affect me too. Like if something gets dropped on a hard floor it 'goes through me'!. I find a hot bath with arnica salts eases the pain and an electric blanket on my bed in the winter (i set the timer to turn off after an hour or so as i usually fall asleep watching tv!). The only thing you can do is take painkillers and do a bit, rest a bit. Swimming (as long as the pool is warm) helps too.
Ellesbelles
- 23-Oct-14 @ 6:13 PM
I think i have FIBROMYALGIA My question is :what kind of test i can do to be sur i FIBROMYALGIA i have pain every where in my body , shoulder, feet, feel tired, fatique, tomi pain, my doctor say to me maybe i have Fibromyalgia . please send me information .
Hoba
- 16-Apr-14 @ 9:00 AM