Bladder Problems in Fibromyalgia Syndrome
By: Suzanne Elvidge BSc (hons), MSc - Updated: 29 Mar 2016
|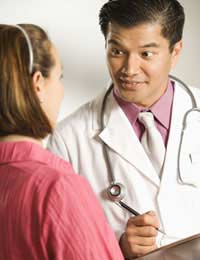 As well as the key symptoms of the disorder – muscle and joint pain, tenderness at trigger points and fatigue – people with fibromyalgia syndrome can develop a range of other symptoms, including problems with their bladder and in the pelvic area. These may be there all the time, or be triggered by the menstrual cycle, or by stress or diet.
Frequent Urination
Needing to urinate frequently is a common problem in fibromyalgia syndrome – some people find that they have to get up often during the night, as well as having to dash to the toilet regularly during the day. This can have a serious affect on life and work.
Interstitial Cystitis
Another bladder problem common in fibromyalgia syndrome is interstitial cystitis (IC). The symptoms of interstitial cystitis (also known as irritable bladder syndrome or overactive bladder syndrome) include pain and a feeling of pressure in the pelvic area, frequent urination (even up to 60 times a day), the urge to urinate even when the bladder is empty, and pain during or after sex. People with interstitial cystitis may even become incontinent, which can be unpleasant and embarrassing, and need to use protective pads or special underwear. The symptoms are similar to those of a bladder infection, but there is no infection present.
What to Do?
Kegel exercises and electric stimulation strengthen the pelvic floor and other muscles, and can help with urinary problems. Some people find that cranberry juice or cranberry extract helps, and others find that interstitial cystitis and bladder problems are triggered by spicy or acidic foods – but talk to a doctor before taking supplements or cutting things out of the diet.
There is a prescription treatment for interstitial cystitis called Elmiron (pentosan polysulfate), which protects the bladder wall. This isn't generally available in the UK yet, but can be prescribed to individual patients by consultants, on a 'named patient' basis. Other prescription drugs include antidepressants, muscle relaxants and antispasmodics (to reduce bladder spasms), and painkillers.
While it might be tempting to cut down on fluids when urination is painful, this can actually make things worse by making the urine more concentrated – so drink plenty of water. Cutting down on alcohol and caffeine can also help.
Sleep Apnoea
Sleep apnoea, when an airway obstruction makes people stop breathing (for a few seconds or up to a minute) and wake, could be another cause for the urge to go to the toilet during the night. The fall in oxygen levels creates a stress reaction to wake and start breathing again, and people with sleep apnoea will wake with a jerk, often coughing, spluttering or snorting. This stress reaction can make the body think it has an overload of fluid, and trigger the urge to urinate. Up to 80% of people with fibromyalgia syndrome may have sleep apnoea.
Treating sleep apnoea may be as simple as changing a sleeping position (sleeping on one side rather than on the back) or losing weight, or it could need treatment with a continuous positive airway pressure (CPAP) device, which supplies air under slight pressure and keeps the airways open.
You might also like...
My mobility is now being affected by my condition and requested assistance with a car to get me out and about from the isolation.I felt as if I were sitting in front of the gestpo? at a medical tribunal as they took it in turns to ask me many questions.I drove my own car for years and never asked anyone for help until it was costing too much to repair and I couldn't afford it.Anyway if my request for PIP is turned down I will be stuck at home with no light at the end of the tunnel.Getting out of the four walls acts like a distraction lolMisty x
misty
- 29-Mar-16 @ 8:25 PM
I have the above but I also have blood in my urine that shows up in the lab i am so worried and have to have a camera out in me to check so frightened PUT
Marypopins6868
- 25-Oct-15 @ 11:55 AM
I feel very reassured by this article as a locum GP had told me that frequent / urgent / sometimes uncomfortable urination is not linked to fibromyalgia.He advised the frequent urination I was experiencing was due to the diagnosis of diabetes, which I do accept, but 'the running to the loo' etc had been occuring long before the diabetes was diagnosed.Now I have a bit of reassurance that I'm 'not imagining things'! I was also fascinated to read about the sleep apnoea. Thank you for the articles, I find them informative and wonderful in affirming I'm not a hypochondriac!
Tazzers
- 19-Jul-11 @ 10:30 AM
I have had a good result with marshmallow root herb - I make it into a tea- for interstitial cystitus, it is really worth reading catherine Simone book "The Healing Path" and trying her remedies, I have had fibro for 10years , and other issues with it but this herb has really helped.
susie
- 15-Jul-11 @ 5:04 PM
Thank you very much for your continued reports which I find very helpful. I have been diagnosed with fibromyalgia for 15 years and suffered with symptoms for at least 7 before that. I have had carpel tunnel on both wrists and have arthritis - currently being checked for what form. I am about to see a specalist re sleep apnoea. My biggest difficulty is acceptance together with the loss of mental facilites - I find other people do not understand the condition especially as I look reasonably well most of the time.Thank you Sue Caola
suzyQ
- 15-Jul-11 @ 1:56 PM